2018 Spring/ Summer fashion season opens up with New York Fashion Week. We enjoyed the always safe, commercial, diverse proposals full of new options: from the ultrafeminine to the boho-chic, from the avant-garde to the ladylike, from powerfulness to romanticism in a city where present and future impacts the whole world.
As every year the New York Fashion Week catwalks are packed with well-renowned faces from Hollywood, TV, sports and culture. All of them supporting a highly profitable sector with a bold impact in many countries business life. New York opens its arms to fashion and we are here to report it all! Don´t miss the two articles part of this runway report.
NEW YORK FASHION WEEK HIGHLIGHTS
Tom Ford
Always faithful to his policy of strong powerful garments and basic lines full of plenitude, elegance and absolute simplicity. Silk and satin suits in pink combined with coral, white and dark blue. Leather white and orange trenches. At night well fitted night dresses in yellow, beige, black combined with smoking jackets. Safe and masterly bets! In the front row Doutzen Kroes, Kim Kardashian, Poppy Delevingne, Juliane Moore and Leiv Shreiber.
Del Pozo
An absolutely ravishing collection full of femininity, contrasts, originality, boldness and elegance at the superlative level. Green aqua, turquoise, fluor yellow, saumon, lime yellow, cornsilk, red, hot pink, oranges. All in harmony. With this absolute mastery of frills with an elegant and sophisticated flair, Del Pozo drives us to a dream world with his chiffon, tulle and brocade dresses and absolute delicate overlays full of dynamism, keeping the right feminine silhouette.
At night the chiffon Hellenic dresses in pastel colours, and the flowery printed silks, reign in the red carpet. Aligned to the new trend of live concerts in the catwalk, Del Pozo continues to be a safe bet in NYFW and we give him a " red carpet special mention"!
Calvin Klein
Simple impactful combinations of suit trousers and cowboy shirts in satin, mixing dark blues, reds, shiny yellows, whites, burgundy, greys and blacks. The tweed makes his way with jackets, trousers, blending with shiny reds, blues and yellows. Plastic tweed fabrics for skirts and trenches. Floral prints in chiffon, and dresses mixed with leather bikers jackets. Colour blocks in suits, coats, from the beige to the white, purple, yellow, red, blue and the always trendy black.
Great surprising shock with their leather degradé midi skirts in colourful shiny yellow, green or red, promising to be a big Summer 2018 hit. At night fringes in red sexy dresses. In the front row Lupita Nyong, Karlie Klos and Carolyn Murphy. Clearly, Raf Simons continues his masterful leading role in the "maison" Calvin Klein.
Ralph Lauren
A four leading master guidelines collection: grey tweed in strapless dresses, trouser suits, trenches with a clear Mr Lauren´s sobriety and modernity.
At night contrasts of blacks, yellows, blue Klein, absolute red in minimalist slip dresses, tulle, silvery fabrics blended with leather black bikers. The stage props? Latest yellow, red, black Formula 1 sports cars and, in the front row Katie Holmes and Jessica Chastain.
Ralph Lauren dressed as a mechanic is here to fix it all!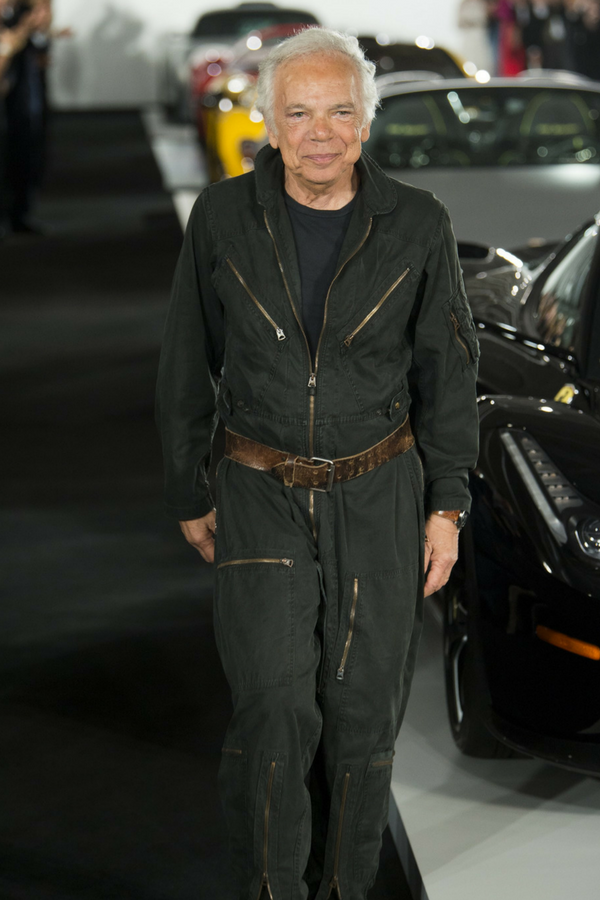 Victoria Beckham
A triumph of the pastel pinks, aqua greens, indigo, beige, coral, grey pearls, in midi skirts, blouses, "ensembles" and very simple dresses always practical, original and very professional looking, conserving femininity in a super flattery colour palette. Black, red, grey silvery cocktail dresses. As always the Beckham family, David and their son Brooklyn, were part of the front row supporting Victoria.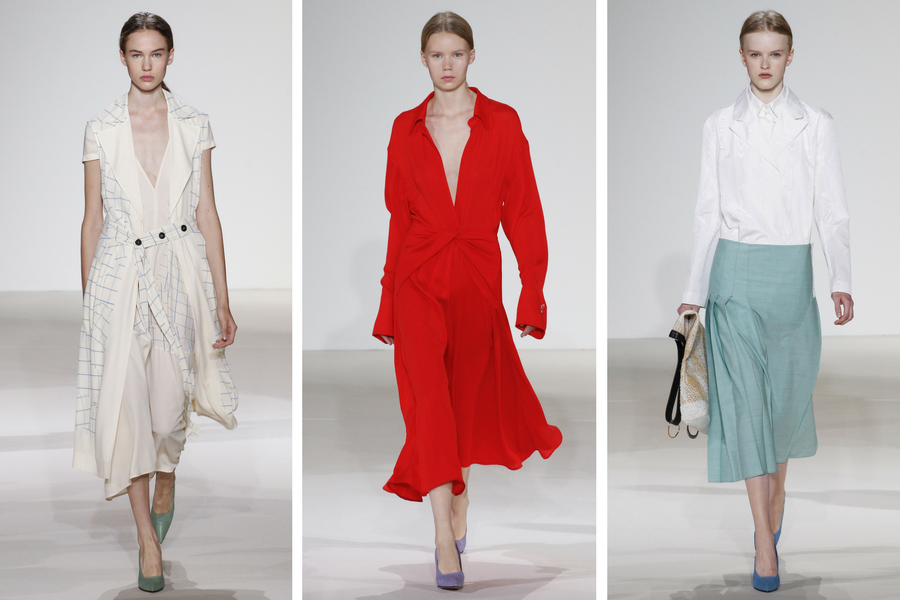 Michael Kors
In line with the trendy live concerts in catwalks, Michael presents a collection " by the beach" with tropical prints and degrades in light blues, pinks, indigos, and greys with deconstructed skirts, pants, trenches, all unconcernedly blended.
For the professional woman, immaculate white for skirts suits and degrades ensembles with skirts and blouses. At night the absolute winner takes it all with glittery flattery night dresses. For the first time, Michael Kors also introduces big sizes and +size models in the catwalk, in line with the diversity trend in fashion.
Nicole Kidman, Naomi Watts, Catherine Zeta-Jones, Mario Testino, Gala Gonzalez and Chiara Ferragni were part of a super glamorous front row.
Stay tuned for the second part of the runway report of New York Fashion Week.
LIKED THE ARTICLE?
Then for sure you will love these other fashion weeks articles too.
NYFW A/W2017-2018 TREND REVIEW
FAVOURITE RUNWAY SHOWS NYFW A/W2017-2018
NEW YORK FASHION WEEK 2017 DIVERSITY & INTEGRATION
PARIS FASHION WEEK A/W2017-2018
MILAN FASHION WEEK A/W2017-2018- PART I
MILAN FASHION WEEK A/W2017-2018- PART II