Milan Fashion week was full of surprises! One article wasn't enough to share with you all we loved about it.
These are the rest of our favorite looks from Milano!
MILAN FASHION WEEK AMORES II
MAX MARA : THE CLASSICAL CHIC WAY
Max Mara runway's mainstream was about confident and strong women that walked with their hands in their pockets.
The trend for the collection is monochrome silhouettes. Models were wearing red and camel velvet pants, liquid gold pants, sheer cotton tops and red hooded capes.
A more masculine look showed up with grey striped jacket and pants. Halima Aden also appeared wearing a camel coat and a hijab. This girl is on fire and we are proud of her.
We also saw classy looks with black jumpsuit and black dresses with sheer tops.
For a warm winter, there were a lot of knitwear and red turtleneck sweaters, camel shearling coats and red fur long coats. Camel color- and its many different shades, is definitely a must have color for the next fall/winter.
FENDI:  THE MODERN ROMAN SPIRIT
From the first moments of the show, we started feeling that we were in Rome. That is the magic of the catwalks.
Karl Lagerfeld was inspired by the "papiers dominotés". We saw these prints on blue and brown dresses and geometric forms inspired from mosaics and from the 18th century Italian style.
Models were also wearing long grey coats with fur cuffs. Grey was a dominant colour in this catwalk too as we saw different grey dresses, coats, pants and jackets.
Lagerfeld showed light silk, floral and sheer fabrics dresses, leaf prints blouse and dresses.
We can't not mention the cuissard boots in carmine red! Red is broadly used this season to spice up and bright the more tone down wintery colors.
ALBERTA FERRETTI: THE VENETIAN « LOVE »
No, you're not in Venice, it's Alberta Ferretti new collection!
This collection can be described as romantic. Models wore artistic prints on capes and dresses, striped black and white skirts.
We saw also very light blouses and pants and light floor sweeping dresses in chiffon, yellow jumpsuits and capes to dream for.
She expressed her love for Venice by using embroidered shiny lions- symbol of the city- on sweaters, coats, sleeves, dresses and capes. Does she want to tell us that women are as strong as lions? Maybe!
The lion was also on the revisited Sailor top in cachemire where we directly imagined ourselves in Venice on a gondola!
And lastly, we couldn't not fall in love with the black dress with embroidered gold birds and flowers worn by Gigi.
At the end of the show, all the models walked wearing sweat-shirts with the days of the week named « Rainbow week ».
PRADA: THE ANATOMIC BOMBS
Prada's show was all about mixing colours ! Yes, a lot of colours.
The show started with corduroy pants. Then we started seeing coats and skirts with ostrich feathers.
Pink silk dresses and silk skirts with fur, wool skirts with embroidered pearls and flowers and tree branches designs.
The most amazing part was when models walked with Robert MCGinni's gorgeous drawings of women on leather tops and skirts. A skirt or a shirt with a MCGinni's illustration is definitely a statement piece!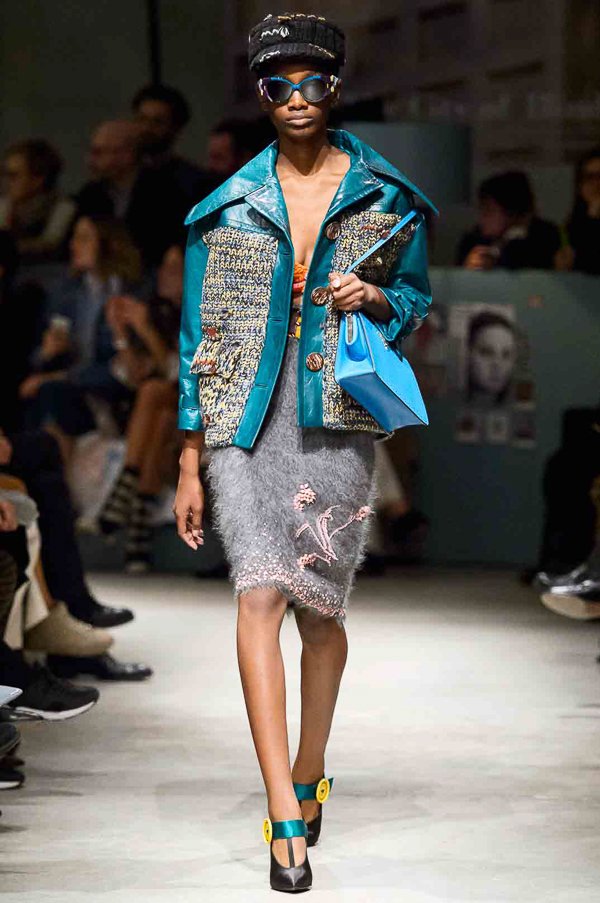 VERSACE: LOVE, LOYALTY AND UNITY
The runway started with monochrome black silhouettes. Messages were hidden- like the word « loyalty» underneath a black coat for the first look. Then the word « love » appeared on a shirt and « courage » on a tulle skirt.
The words love, loyalty, unified, courage, unity, strength on hats, belts, scarfs and even on sleeves paraded from the beginning to the end of the show.
Donatella Versace definitely wanted to promote a very much needed unity!
Models also wore floral embroideries on black jeans jackets and on tulle dresses.
We also saw an oversized down jacket in fluorescent yellow.
There were yellow and orange metallic dresses and evening dresses in lurex, slit dresses and skirts.
To wrap up an amazing show, a glamorous coat and a black slit dress with glitter.
---
Don´t miss our Paris, Dubai and London coming reports. We hoped you are enjoying the New York and Milan fashion week posts.
and this Milan Fashion Week Part II you just read!