Paris Fashion Week is one of the most expected fashion weeks in the world. Like every year, fashion shows took place in the most iconic places in Paris making the shows unforgettable. This is our review of this crazy week full of shows, activities, events and social gatherings that are part of the Paris Fashion Week AW2017-18.
PARIS FASHION WEEK AW2017-18
Saint Laurent: The Sleeves empire 
Inhale… Take a deep breath.. because Saint Laurent's collection is going to take yours away.
Saint Laurent's show started with a lot of leather. Models wore shiny crumpled leather black jackets, brown and camel jackets, pants, a shiny cropped crumpled leather black dress and short camel crumpled leather dress with a flower shoulder strap one sleeve.
We saw also some fur with a cute fur bolero and a kaki jacket. Sheer fabrics were also part of the show as models wore a chiffon black dress, asymmetric skirt with tulle, lacy tops and mousseline see through tops.
A less classical style appeared with nylon shiny blue pieces, asymmetric dresses in black and in green and pointed shoulder straps on camel dresses and bar jackets.
For evening looks, models wore slipped floor-length velvet black dress, crystal studded mini dress with long sleeves and without sleeves and short black dresses with amazing sleeves.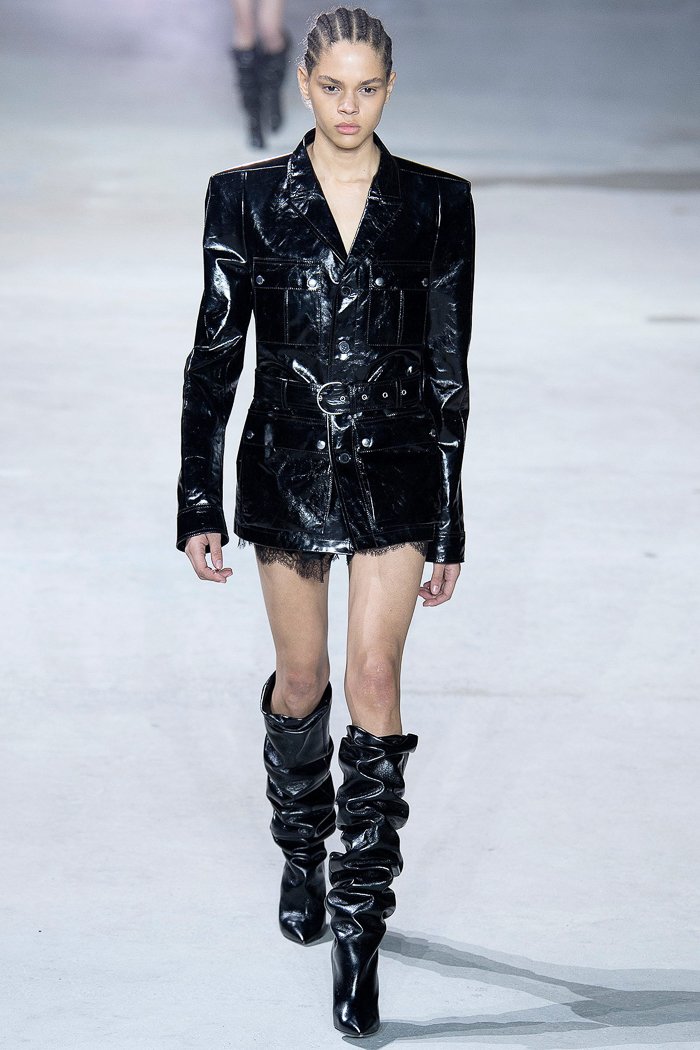 Anthony Vaccarello worked a lot on sleeves: there were big sleeves and more sculptured sleeves with different forms.
Accessories completed the models looks with mostly black shiny leather and velvet boots and some glitter boots.
The dominant colour was black -for women as for men. Men models wore monochrome black silhouettes, leather jackets, velvet jackets and camel shammy leather jacket.
Lanvin: Light Air
Lanvin's show was simple with a mixing of fabrics and some monochrome silhouettes. The dominant colours for Lanvin's runway were light, pink, black and white.
We saw lace and chiffon light pink dresses, lace shirts, a chiffon black blouse and a model wearing a pink flower shawl with feathers.
Leather was also present. Models wore shiny crumpled leather jacket and pants. Leather pieces invaded the different fall/winter shows so for the next season, you will definitely need one.
Models were wearing velvet black dresses too, black and white satin gown. We saw a black tulle dress and a super classy white jumpsuit with chiffon sleeves.
More masculine costumes popped up with white pants and a white jacket with flowers and birds prints. For Bouchra Jarrar wearing one purse wasn't enough. Some models completed their looks by wearing 2 purses.

Louis Vuitton
Ghesquière created a collection with a lot of different colours, mixed fabrics and prints.
Fur jackets and coats, leather jackets, tweed jackets and even a denim jacket created from fur and cotton fabrics.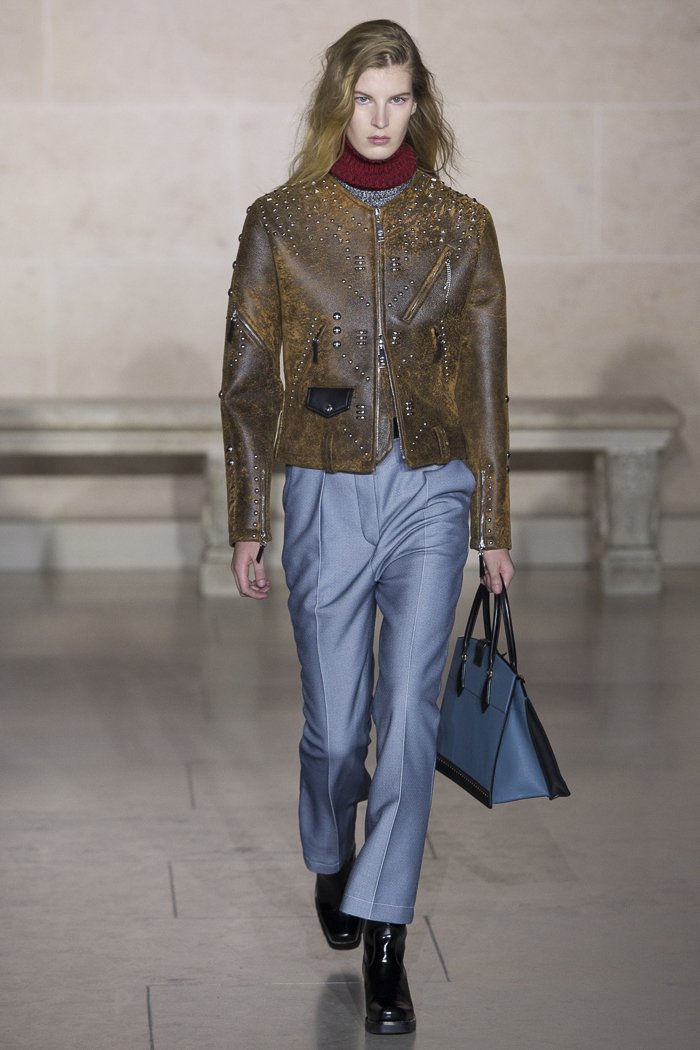 There was also white pants, black and white dresses and plaid dresses. But models walked also with more eccentric pieces like dresses with mixed flower prints, a wool graphical knit jacket, and wool knit turtleneck sweat-shirts.
To round off the looks, models wore classical handbags in different colours like yellow, black, blue and red.
Rochas: Classical classy looks
Rochas began his show with classy long dresses in light pink, kaki, camel, grey and yellow.
The grey was one of the dominant colours as models were wearing grey pants, jackets and coats. Models paraded also with fur camel coats with a tied belt. The same coat appeared in red. The turban belt also appeared on some jackets and coats.
The Rochas collection was very diversified. An amazing dress with metallic floral embroideries and a light blue chiffon dress were part of the Rochas show.
Alessandro Dell'Acqua presented strapped coats and skirts, a long black coat with glitter and black and gold dresses with fringes.
Some models wore long white dresses with leafs in different shapes: one with a plunging V neck, one with a turtle neck and a rounded collar one.
Lighter fabrics appeared with a floor-length mousseline dress and a floor-length lacy dress.
Alessandro didn't forget the famous R of Rochas as he used it over some pieces with crystals.
H&M: Smiling models 
On the H&M runway, models were smiling. Yes, they were smiling! Normally they are told to be neutral and poker faced, so this is a refreshing change.
The H&M runway was for men and women. Women models were wearing a lot of black, pink and white. We saw black shorts and jumpsuits.
Women models paraded with white long skirts and monochrome looks with white blouse and pants and a taffeta short dress. White nylon mini dresses were also part of the collection.
Let's not forget the look with a nylon sweatshirt and chiffon skirt with the word « Love » embroidered.
The same spirit was employed for men as they wore black shorts and pants, long coats, leather coats and nylon white sweatshirts.
Definitely, this season is plenty of love and positive thoughts!
Balmain: The wildlife
Balmain's woman is again a warrior and a confident woman. This collection was inspired by the wildlife. Earthy tones dominated the runway with black, brown, gold and silver pieces.
Balmain's army paraded in brown and gold skirts, loosely fitted t-shirts. We saw crocodile print pants and tops, suede tights pants, snakeskin prints, loose fit t-shirt with wolf head prints, tight dress with zebra prints and cow print jackets.
Balmain's models were on fire as we saw velvet gold, black and brown sweat-shirts and fringe skirt in the shape of a fire light.
Models wore also a metal with gold thread and crystals dress, a dress with gold and orange fringes, metallic dress with crystals and mousseline, a tweed skirt and a tweed jacket.
Let's not forget the lip jewellery golden metal pieces worn by some of the models.
Olivier Rousteing ended up the look with tight high suede boots and snakeskin boots.
Dior: Shades of blue
Are you a working woman? This collection is for you!
Do you remember the beret, the symbol of resistance during the world war II? Well, all the models were wearing a black leather beret. Is it a shoutout for the role of women in society?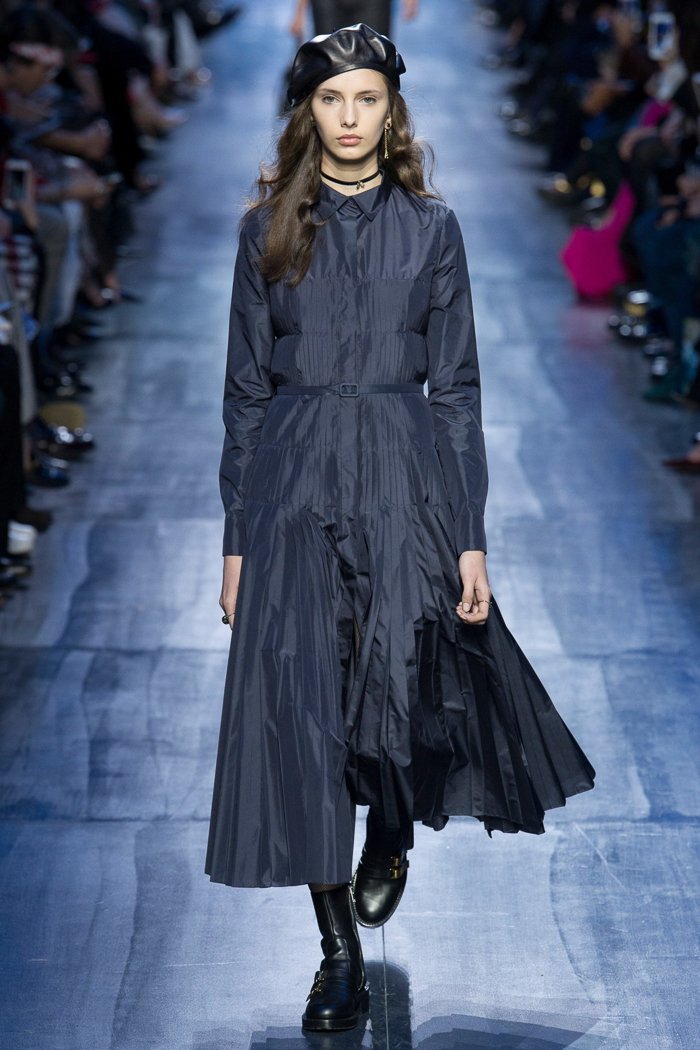 First of all, the Dior show had an air of softness with different shades of blue silhouettes making this collection very classy.
Models rocked it wearing nylon black jackets and long skirts, denim jeans, navy blue capes, navy blue plaid and black coats, skirts and pants.
Let's not forget the gorgeous navy blue glitter dress with tulle and with a bustier neckline.
Maria Grazia Chiuri made our eyes shine with a brassière and a short covered by a tulle with navy blue butterflies and flowers embroidered.
Talking about embroideries, we also saw mousseline black dress and tulle moon embroideries, a velvet black jacket and a skirt with gold astrology embroideries.
Christian Dior said « Among all the colours, navy blue is the only one which can ever compete with black, it has all the same qualities » and Maria proved it!
Elie Saab: Welcome to Lily land
Elie Saab is known for his stunning Haute-Couture designs. But he amazed us again with his romantic Ready-to-wear collection.
Models wore purple gaberdine jumpsuit with long sleeves, purple dress with velvet sleeves, fur coats in blue and in white and a ruffled chiffon floor-length dress with a lacy neckline.
But let's talk about lilies. Models wore dresses with embroidered purple lilies on the tulle part and on the sleeves. A beautiful leather jacket with.. yes, you guessed it!.. more lily embroideries, sam for a black dress tulle, a powdery pink dress and a mousseline cape marched smoothly on the runway.
Elie Saab presented also ruffled chiffon dresses with lacy sleeves, lacy and velvet long black dress, blue lacy short dress and a blue velvet dress fitted with lace.
Evening black dresses in mousseline and black velvet fitted with gold strass ended the show.
Valentino: the discreet silhouettes
Valentino's pieces were light, simple and discreet inspired from the Victoriana and that you can wear easily.
Pierpaolo Piccioli opted for waistless dresses, some high necked, and long sleeved dresses.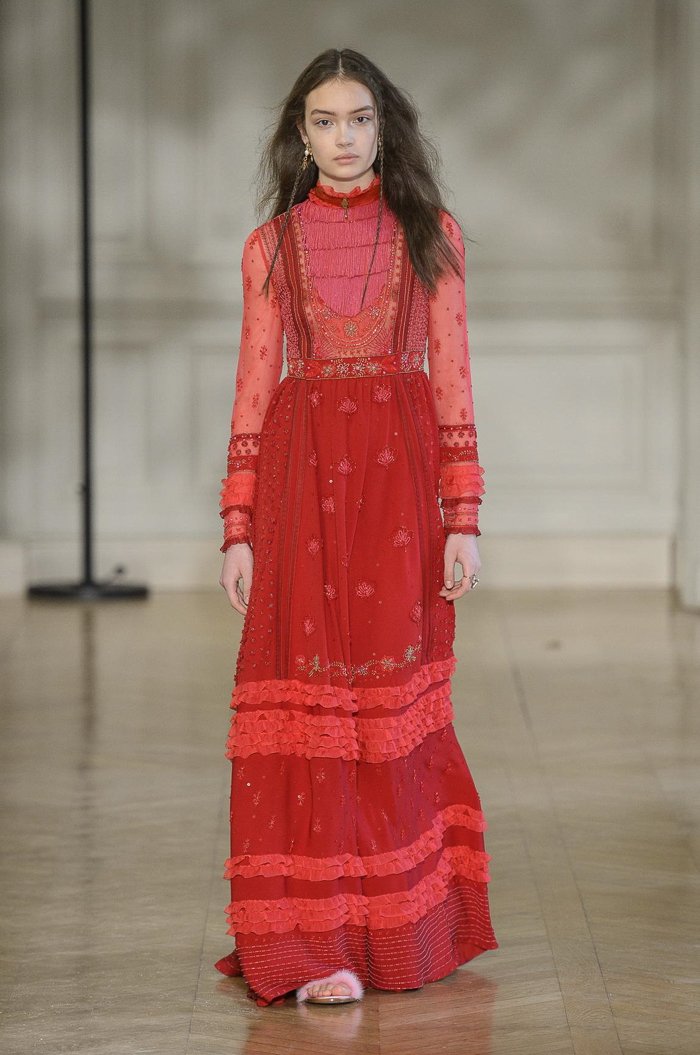 Models wore black red, light pink, light yellow, flower and graphic prints dresses.
We saw also some steer floor-length black dresses and a red tulle dress with lace.
A floor-length silk dress with nature inspired prints and a lot classy coats paraded on the runway!
Chanel: Dreamy future
Chanel's transformed the iconic Grand Palais in a space station! There was a 35 metre tall space rocket in the « Centre de lancement No 5 ».
Well, Chanel started the show with a tweed outfit because a Chanel collection isn't Chanel without tweed!
Models were wearing long and short white and black tweed coats, grey and blue, pink tweed dresses and skirts.
The futuristic theme didn't end up here. There were also white silhouettes with a long skirt, white silk blouse and long white coats.
Models walked in metallic pants and a doudoune cape, jackets and skirts with spaceman prints and silk, chiffon dresses with spaceman prints, sweat-shirt and skirt with planets prints, metallic green fabric jackets and large cycling inspired shorts and skirts.
A glitter blue skirt, a velvet black dress with some crystals and velvet black coats, jackets with paillette and standaway collars were spotted too! There was even a rocket ship handbag!
To finish off the futuristic looks, Karl Lagerfeld chose silver glittery boots and gorgeous textured crystal headbands.
For the men part, models wore white monochrome silhouettes with white sweat-shirts and pants. Hudson, Karl Lagerfled's son walked wearing white pants and a white coat.
By launching the rocket at the end of the show, Karl Lagerfeld proved us that everything is possible!
We hope that you enjoyed our review of the shows of this hectic Paris Fashion Week AW2017-18! The fashion shows aren't over. Stay tuned for Dubai fashion shows next!