The catwalks are great inspiration for all of us, not only the clothes, the accessories, or the hair also the makeup make our imagination fly. DFN Makeup artist, Taiwen Chen, shows us what is new and how to replicate these distinctive runway makeup looks.
A/W2017 RUNWAY MAKEUP LOOKS
JEREMY SCOTT A/W2017
Have you ever tried the bottom false eyelashes?? Then the new look of Jeremy Scott will give you excellent reason to give it a shot. Delicate apricot blush, light stained lips, and the dramatic touch of the bottom false eyelashes or the painted golden teardrops falling down the cheek. Models just looks like cartoon characters.
HOW TO GET THIS LOOK
Use your normal makeup as a basic of this look. To produce the bottom eyelashes, simply cut your falsies in tufts. Later apply them one by one to the bottom of the eye.
Important tip:  the falsies should follow up the shape of your bottom of the eye, creating a half circle.
To get the golden teardrops you have to use liquid gold makeup. Sephora has this magical product in stock.
THOM BROWNE A/W2017
Sticker-makeup might be back in fashion again, as we can see in the new look of Thom Browne for this coming autumn/ winter season. The pale skin mixed with stickers for the brow and the lips, makes models looks like aliens.
HOW TO GET THIS LOOK
Use white foundation to give the basic geisha look. You will have to buy the stickers before. Online you can find a lot of different options.
ICEBERG  A/W2017
DESIGUAL A/W2017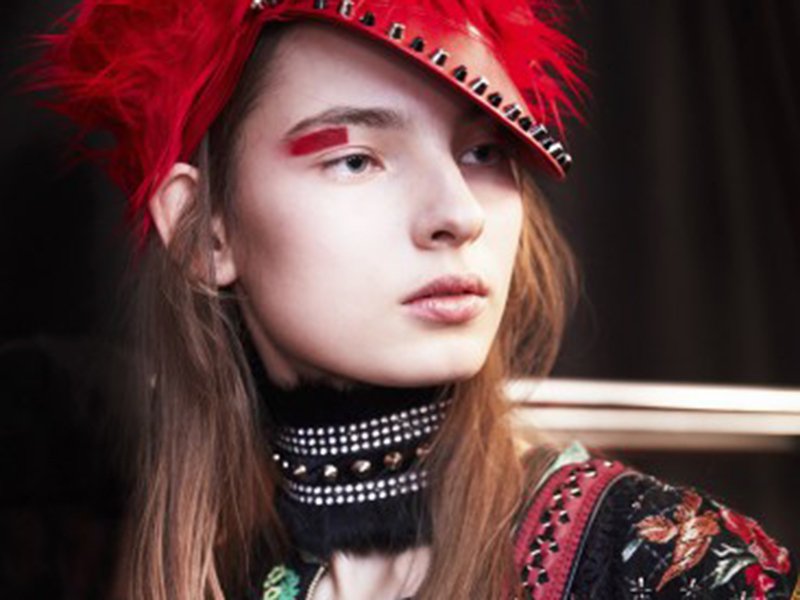 Lids were literally eye-catching thanks to the vivid color swatches at Iceberg and Desigual runway proposals.
HOW TO GET THIS LOOK
The colorful swatches are done with body paint makeup and are applied with a brush over the lids.
ANNA SUI A/W2017
Anna Sui went for eyelids coated in a gorgeous peacock blue eyeshadow applied in a gentle moon shape. She matched the eyes with the maroon lips. The rest of the face is very neutral, with a light-touch of contour and some highlight.
HOW TO GET THIS LOOK
Start using a blue pencil to define the eyes. Later add peacock blue eyeshadow on top. It will make the color more saturated and more bright. And don't forget to use some mascara on the lower eyelash.