Setting up the stage for sustainable luxury.
The stars glimmered at day 2. Dubai Fashion Week was nothing short of influencers and celebrities attending. Glamouring the entrance to the show, attendees adorned themselves with the latest jaw-dropping fits ranging from old, new and sustainable luxury.
As the first show of the day Pipatchara, sister-duo and Thai based brand, showered its guests with warm welcomes to the show. The eponymous designer wore her own design – the infinitude top made out of recycled Singha bottle caps and a major part of her design codes – elevated her much awaited final walk sporting a minimal blazer and street style pants.
Sustainable Luxury is definitely not new, brands have been ravaging on and researching the best way to use waste into wearable, priceless clothing. As such, Dubai Fashion Week commemorated the second edition as an ode to the United Arab Emirates theme of the year – a focus on Sustainability. With this, d3, and its partners heavily invested into this years set list of designers, even those in the showroom preserved their definitions of sustainable luxury, through the seven-day event.
Pipatchara's SS24 collection "The Eternal Symphony" did not fall short of changing the sustainable luxury game in the Middle East. The collection showcased 30 looks with their signature macramé weaving, advanced laser cut techniques, and showered their looks with the glam of sparkly micro-plastics. A shift from your typical sustainable design.
As the show began, attendees took in the breathtaking runway design. A simple yet impactful way of showcasing the recycle possibilities of plastic into beauty. The runway was covered in large heaps of plastic-turned-glitter, shimmering as lights and models ramped. Though short, a meaningful video behind the collection gave attendees a glimpse of their production for their first show in Dubai – the shivers, the inspiration, and the un-ending fervor to deliver an exciting show.
In this season, Pipatchara added a new design to their usual codes of macramé. Embroidered flowers, a signature look in this collection colored in green, black, white, grey's, crystals and silvers made from organic dyes danced along with the brands lifestyle message of responsible consumerism. Despite the message, it did not fail to enchant the eyes with opulence.
"Our inspiration is plastic recycling that our brand has been working on for over 2 years now, even what I'm wearing actually comes from the trash and tons of plastic, and the colours too, from trash! I'm really excited for everyone to see this collection in person."
– Pipatchara.
Dubai Blings' Loujain Adada closes the show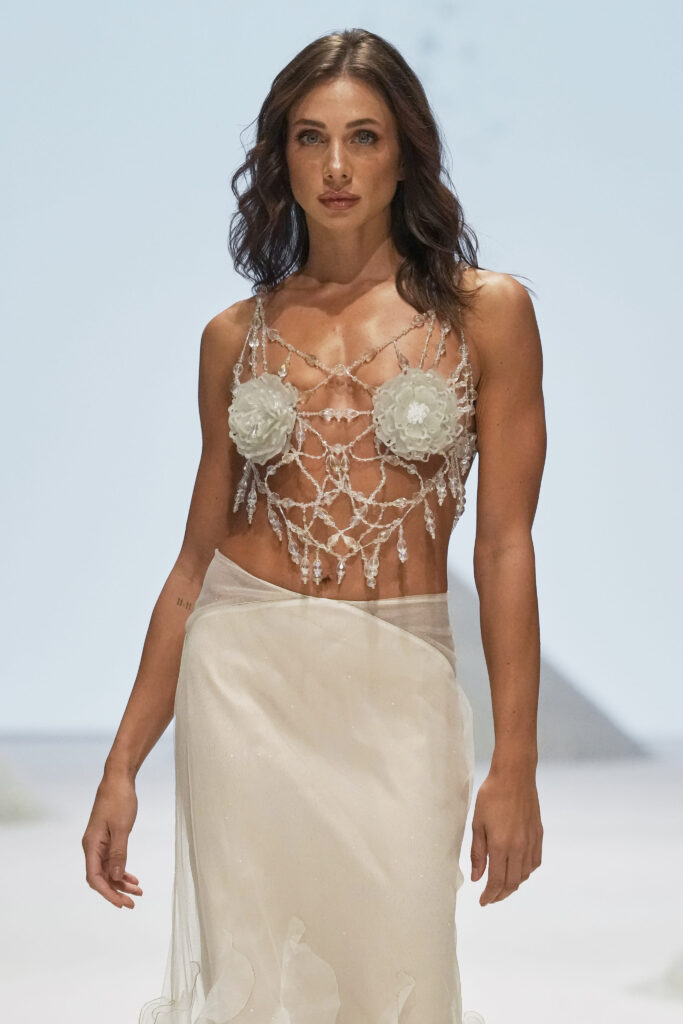 Loujain Adada, better known as LJ from the reality TV show Dubai Bling, is the second most richest star in the show with net worth between USD 3.8 to USD 4 Billion according to Women's Health.
She charmed the attendees wearing a brilliant Pipatchara styled crystal rope top with infinitude flowers and a graceful low waist skirt with asymmetrical ruffles.