From New York Fashion Week, there have been some runway shows that we fell in love with. The creativity or their proposal just made us happy. This is the list of that DFN selected from the A/W 2017 and why.
THE RUNWAY SHOWS WE LOVE FROM NYFW A/W 2017
THOM BROWNE AW17/18
Ok, he got all wintery and created a catwalk that looked like a frozen lake. The models were literally skating on it as the shoes had a platform and heel that really looked like ice skates. The designer was playful with the clothes, the space and also the makeup. He used stickers to create brows and pouts in houndstooth, that made the models look a bit alien.
Grey was the super colour, mixed with white and black in stripes, houndstooth patterns, tweed, quilted feather jackets and fur. The cuts were very masculine and there was heavy layering going on in the entire runway.
Accessories, including shoes, boots and bags had bow ties and ties as decoration. Cute and very unique.
DEL POZO AW17/18
Josep Font is one of those hidden gems whose talent shines bright in every occasion. His runway was full of colour, of history, of architecture. Comfy volumetric sleeves and pants, elegant colour blocks, pullovers with huge sequins and shiny fabrics and silks with brooches.
Fun, harmony, coziness and elegance are the words that come our heads after seeing his collection.
JEREMY SCOTT
He is the rebellious kid on the block, with fun, irreverent proposals, full of colours and with a strong message about individuality. This time Jeremy mixed leopard with Jesus Christ, funky stripes, butterfly patches, psychodelia, star sunglasses, … it is like a short trip to Vegas. Chic, Cheap, Fun, Decadent and very, very cool.
The prints were everywhere boots, tshirts, trackies…  Elvis looking suits decorated with tacks, bell- bottomed trousers, feather boas, decadent Barbie looking dresses, fishnet stockings .. the 70's are back.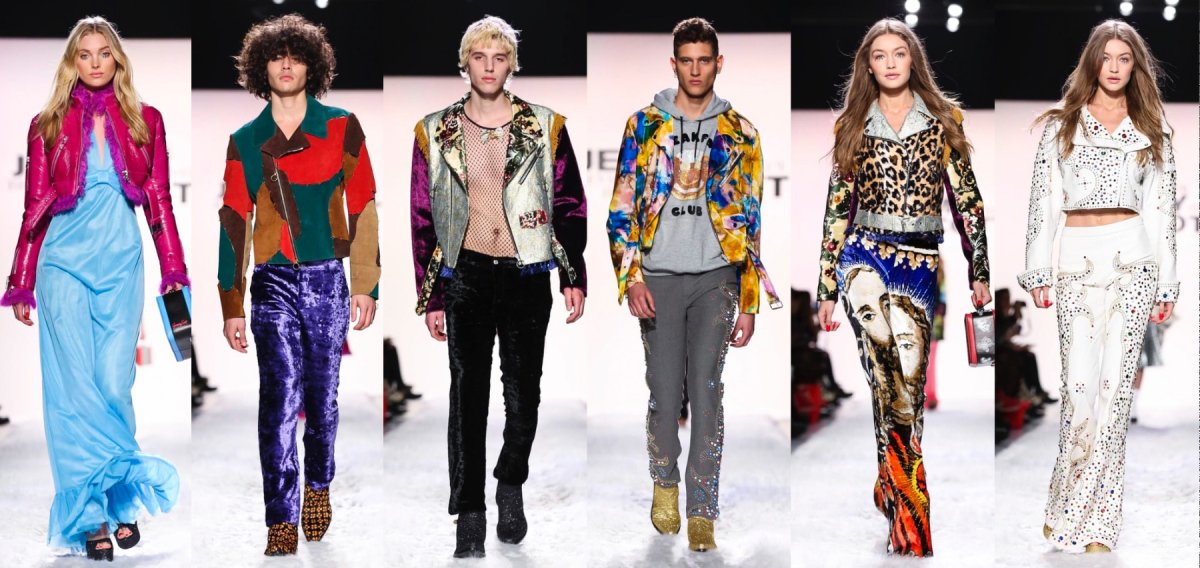 Jeremy always says it loud and clear, so "Sex is Cute" and "As Seen on TV" where part of the prints, this last one full of glitter.  The bags were also eye catching this time looking like the kids lunch boxes.
MARC JACOBS
Marc Jacobs had the idea of showing the winter collection on the street. It must be kind of chilly in New York now, and for once the models were be properly prepared for the weather. His collection was a revival of the 70's. The bucket hats, shorts dresses, big hoop earrings, big trousers, fur scarves and coats, high boots … I have the feeling Lauryn Hill will love every piece of this collection.
We reviewed the trends we saw in this fashion week. You can read the full report right here on this link.