February and March are crazy months for fashion lovers. We have one catwalk after another, and yet again, designers amazed us in the Milan Fashion Week AW 2017-18. These are our favorite looks from this runway. We liked so many that we have a second article on the way.
MILAN FASHION WEEK AMORES
D&G : #DGMILLENNIALS #DGRINASCIMENTO
D&G show was the biggest surprise as not only models were part of the show.
This collection is meant to be for everyone: adults, models, kids, actors, and fashion influencers with different body shapes and different ethnicities.
Lana El Sahely and Ahmad Daabas, the middle eastern influencers, rocked it with their elegant looks. Royalty was present too with tiaras and crowns.
We saw coats with flowers and animal prints, specially leopard. Cute cats were also part of the prints. Mew!
Justin Bieber also made it to the show as models were wearing t-shirts with Justin's head print.
MOSCHINO: THE TRASH CHIC
When Kendall Jenner, Gigi Hadid and Bella Hadid open a show, you know it's going to be tremendous.
Moschino reminds us that we need to recycle as much as possible and that « Couture is an attitude»! Yes, we can make couture from anything!
Camel color was the king of the show as models were wearing cardboards clothes, dresses with brand logos, « fragile labels », shipping tape and prints of Moschino editorials from Vogue. We loved the bubble wrap dress! Yes, you read it well. From now on, packing will be more appealing for us.
Jeremy Scott didn't forget to add to the collection « The fabulous Moschino Bear » that we love.
The trends when it comes to accessories are big necklaces and belts.
GUCCI: « THE ALCHEMIST GARDEN »
The collection's name is « The Alchemist Garden ». And yes, everything make us think about a garden party: the eye-popping set, the clothes, the accessories and the umbrellas.
First of all, the décor was colossal with a pyramid and a rooster weather vane… Even the models were separated from the public by a plexiglass.
Gucci's collection showed a mix of different styles, mostly with a seventies flavor. Models wore floral brocade jackets, pineapple prints and slogan t-shirts.
We also saw Asian style jackets, long fur coats, ruffled blouses, and a lot of colors like pink, red, black, green and yellow.
The accessories were inspired by nature like the butterflies bags and rings.
ARMANI: THE ELEGANCE SQUARE
The trend this season for Armani is Elegance with very glamourous silhouettes. The models were wearing long white and black coats and a lot of trouser suits and short jackets.
Black, red and blue were the three dominant colors with a mix of feminine and masculine looks.
We saw also striped coats and we fell in love with the classy pieces with glitter!
PHILOSOPHY DI LORENZO SERAFINI: CLASSY DRESSES
And last but not least, Philosophy di Lorenzo Serafini's collection!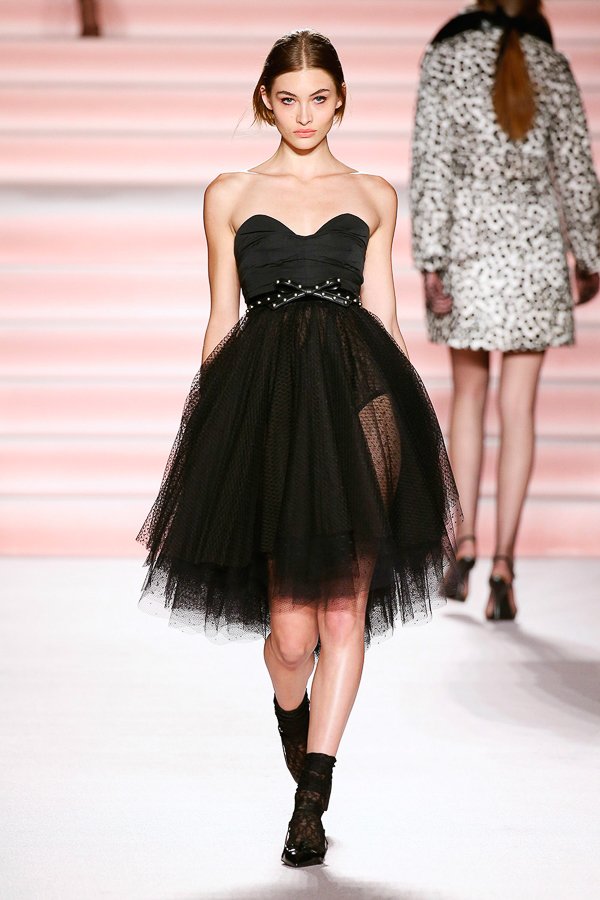 He presented a very glamorous collection with classy tulle dresses and skirts in different colors like black and grey, in fur, leather, and silk.
Milan Fashion Week runways were full of electrifying surprises. That is why there is even a second part to this cawalk. So stay tuned and subscribe.
We can't wait for Paris Fashion Week and for Fashion Forward in Dubai!