New York Fashion Week had so much to mention that of course, we needed a second article to cover only what we liked most! In these two articles, you can find our favorite looks and designers that showcased their creations for the coming Spring/ Summer 2018.
Enjoy and share the beauty with all your fashion friends!
NEW YORK FASHION WEEK HIGHLIGHTS
Oscar de la Renta
Oscar de la Renta astonishes us with fetish pieces, geometric Miró-like and big hearts prints as the absolute winners of this collection. The highlights: the bright reds, deep blues, yellows, the sequins and the original blend in suits and slip dresses. At night, the queen is the degradé colored tulle of the absolutely fabulous Hollywood and European Cinema Awards red carpet dresses.
At night, the queen is the degradé colored tulle of the absolutely fabulous Hollywood and European Cinema Awards red carpet dresses. In the front row Paris Hilton, Ana de Armas and Nicki Minaj.
Anna Sui
Who said we should avoid boho? Anna Sui proclaims that boho-chic continues being super trendy! Marvelous blends of floral and Indian prints, the neo-hippy continues being a "big must" and Gigi and Bella Hadid lead and close this revolution at Ms. Sui´s catwalk.
Hippy lace, flowery printed chiffon slip coats, wide leg trousers, boho-dresses, mesh fabrics … in blue, purples, oranges, pinks, beige… a song of creativity, freedom, and blends of colors and forms.
Carolina Herrera
As usual, Carolina amazes us with a super creative collection. A triumph of the midi length skirt, the contrasts of yellow, orange, purple, blue and saumon. Ladylike dresses for the day and at night, chiffon, tulle, brocade silks dresses. A marvelous collection full of winks to glamour, femininity with a sense and originality.
In the front row Lily Aldrige, Nicky Hilton, Lauren Santo Domingo, Carolina Herrera, and Peyton List.
Marc Jacobs
Marc Jacobs launches a collection full of proposals, suits in a shiny colorful palette, African and Indian influences, overlays and short capes. At night glittery slip dresses. Fetish garments in a very conceptual collection and gorgeous turbans to go with it. In the front row Cindy Crawford and Emily Ratajkowski.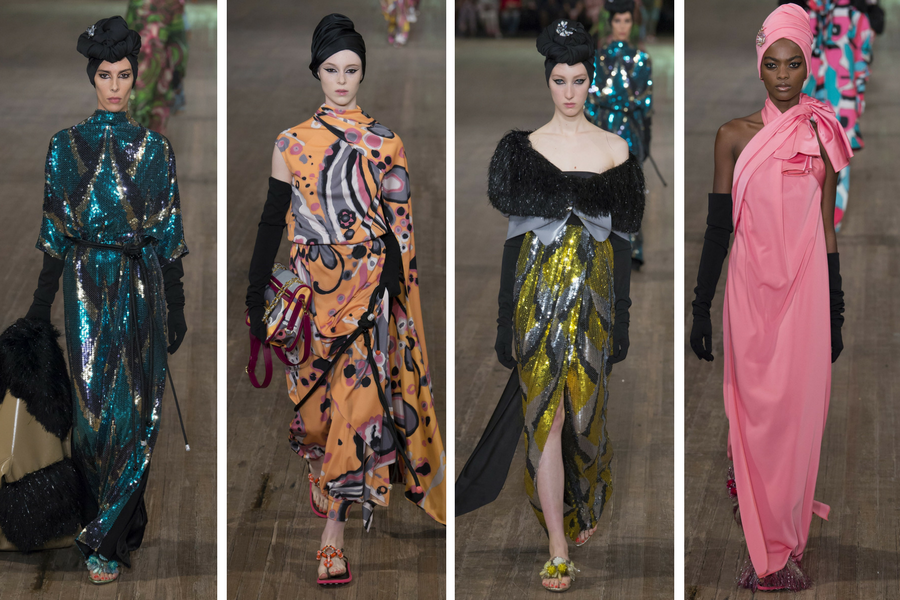 Marchesa
The absolute masters of the night with a creative, original and feminine hip for the red carpet, in their special midsummers night dream. Chiffons with flowery embroideries, night fairies in pastel colors, black, and fuchsias in satin and chiffon. From the apple green slip dress to the most extravagant elegant black one, from the fringed one to the embroidered tulle overlay one. Marchesa tackles all the possible night options with a special intuition for romanticism, elegance, and femininity. A collection worth another "red carpet special mention".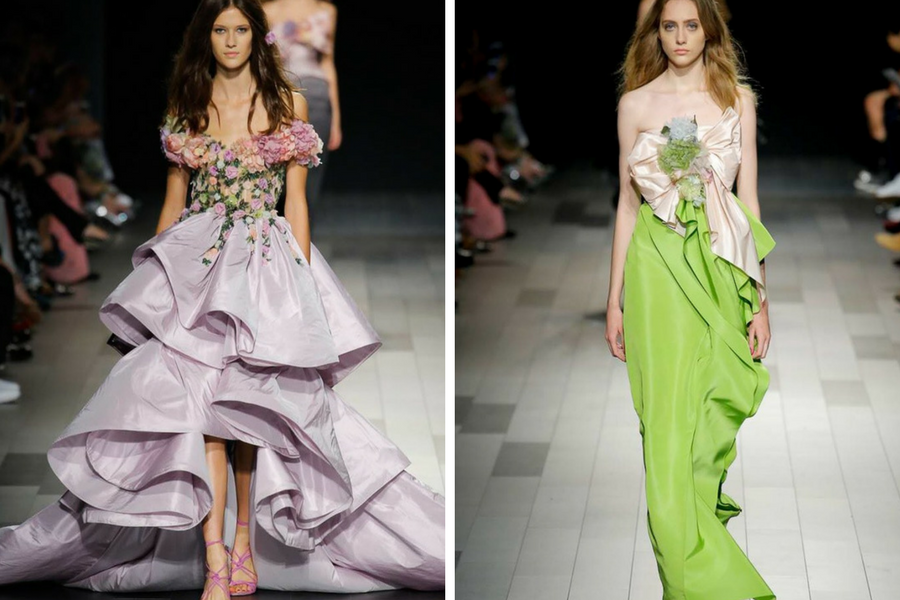 NYFW bids a farewell with multiple proposals from the city that never sleeps opening the season leading to the European, Asian and Middle Eastern catwalks. Fashion is here for our enjoyment and pleasure!
LIKED THE ARTICLE?
Then for sure you will love these other articles too.
OTHER FASHION WEEKS REPORTS
NYFW A/W2017-2018 TREND REVIEW
FAVOURITE RUNWAY SHOWS NYFW A/W2017-2018
NEW YORK FASHION WEEK 2017 DIVERSITY & INTEGRATION
PARIS FASHION WEEK A/W2017-2018
MILAN FASHION WEEK A/W2017-2018- PART I
MILAN FASHION WEEK A/W2017-2018- PART II