Madrid Fashion Week started on September 14th till 19th with a new Director, new different and surprising venues hosting the shows, the summer sunshine and plenty of models and guests still dressed in summer clothes showing their "just arrived holidays summer tan".
Dubai Fashion News was in Madrid to report with some fantastic clips from designers Custo, 2nd Skin, Alvarno, actress Macarena Gómez or the Director of the Fashion Week Charo Izquierdo.
The good news…. that next Madrid Fashion Weeks dates will no longer coincide with London Fashion Weeks, and you will be able to include Madrid in your European Fashion Weeks tour!
47 designers, six days with international well-established designers and new emergent ones, the future of the Spanish fashion panorama.
MADRID FASHION WEEK DESIGNERS
JUAN VIDAL
Juan Vidal obtained the L'Oréal Prize to the best collection with a protagonist, the plaited raffia, reminding the Pacific, Hawai, in the garment´s collars and frills. Long sheer organza slender dresses with asymmetries and overlays. Natural colors from sandy beige to an intense red, fruity bright colors and deep blue…. A paradise collection in a Polynesian beach. Congratulations!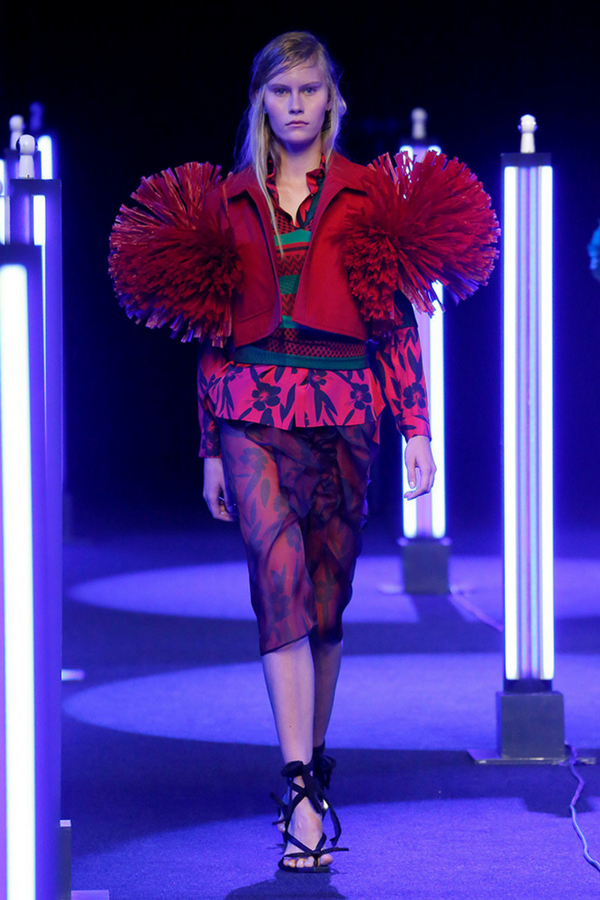 ULISES MERIDA
Ulises Merida already introducing the "see now buy now" in some of his pieces surprised with trapezoidal and evasé forms a and tailored silhouettes in orange, green and turquoise while the dark blue reigns in the nightgowns.
FRANCISCO MONTESINOS
Francisco Montesinos launched his collection with brilliant printed black, green, and white contrasting with light fabrics in pastel blue and white in gowns, jackets, and trousers. The nightdresses will surprise you with the ever-powerful red in a spectacle of feathers and flowers.
ION FIZ
Ion Fiz astonishes us with "Dahia" the name of his new collection, reinventing the African culture and woman. An explosion of color of an artisan collection with jacquards, embroideries, and prints with a botanic inspiration. Dresses with geometric prints combined with stripes. An astonishing bridal gown with train, a tulle veil, and a silvery embroidered body to close a splendorous show.
AILANTO
Ailanto inspired by painter Jessie Arms Bolke for their prints presented a long and fluid silhouette with fabrics such as tulle, satin, plumetis and an artisan technic of flower embroideries, collages, and astonishing birds. Shiny yellows, corals, peacock blue and heron white with a constant accessory: the feather pendant.
ANA LOCKING
Ana Locking, this year in a more sophisticated, minimalist glamorous mood, focuses on a well finished tailoring with an elegant classicism in her collection of suits. Whites, greens, citric yellows and pinks burst into the catwalk. Once again the navy blue is the new black while the silver and gold are the absolute kings of the night with an absolute star her golden nightgown with frills. Great richness of fabrics at night also with embroideries and paillettes.
AGATHA RUIZ DE LA PRADA
Agatha Ruiz de la Prada never disappoints with her explosion of color and impossible and extravagant forms, frills, puff sleeves, spots, rims, hearts and brilliant fabrics and colors with an homage to the master Balenciaga.
DEVOTA & LOMBA
Devota & Lomba and his love for the white blouse in all the possible forms, the Japanese inspiration with drapery, pleats, and honeycomb in the body. Golden lamé for the night and satin trousers suits at night. The midi length once again is the recurrent edge standing out on the catwalk.
ANGEL SCHLESSER
Angel Schlesser faithful to the spring white, navy blue, red, greens and blues and delicate pink, whites, vanilla with minimalist pure silhouettes. Fourreau dresses in light fabrics and wraparound skirts. Cherry red, sky blue, aquamarine, indigo, white and black at night in a very easy to go collection for the professional woman.
ROBERTO TORRETA
Roberto Torreta, the Argentinian Madrid resident has focused on pinks, mustards, blacks, wine reds and greyish blues. A clear 50s influence with marked waists, wide sleeves, and a clear ladylike style. At night suits, satin gowns, straight gowns with cape and lame in his dresses, blouses, and trousers.
CUSTO BARCELONA
Custo Barcelona after showing in the New York Fashion Week he continues his innovation flow in fashion. Technology, hand artisan craftsmanship, variety in his silhouettes in a collection full of surprises, colors, and forms, ready to go for the avant-garde worldwide women. Mixtures of prints, silvery designs, fringes, and summer transparent raincoats in the catwalk from this master of creativity, marketing, and success!
By the way, don't miss all our videos of this promising fashion week in our Youtube Channel.
LIKED THIS POST?
Then you are a fashion freak just like us! Welcome to the DFN fashion family!
You can check the rest of the fashion week articles below and if you like writing, become a contributor! Just send us an email to hello@dubaifashionnews.com.
NYFW A/W2017-2018 TREND REVIEW
FAVOURITE RUNWAY SHOWS NYFW A/W2017-2018
NEW YORK FASHION WEEK 2017 DIVERSITY & INTEGRATION
PARIS FASHION WEEK A/W2017-2018
MILAN FASHION WEEK A/W2017-2018- PART I