Chanel creative director Karl Lagerfeld presented on July 4th the Fall/ Winter 2017 collection in Paris, at the Grand Palais. After the haute couture show, the Kaiser received the city's highest distinction. Why? For his contribution to the city of Paris and his 34 years of creative work at Chanel.
The Chanel show is about to start. This time, Paris is center stage in the Grand Palais. We see a gray tweed coat with oversized shoulders, pearl earrings, and a mademoiselle boater hat opening the show. All very "Coco".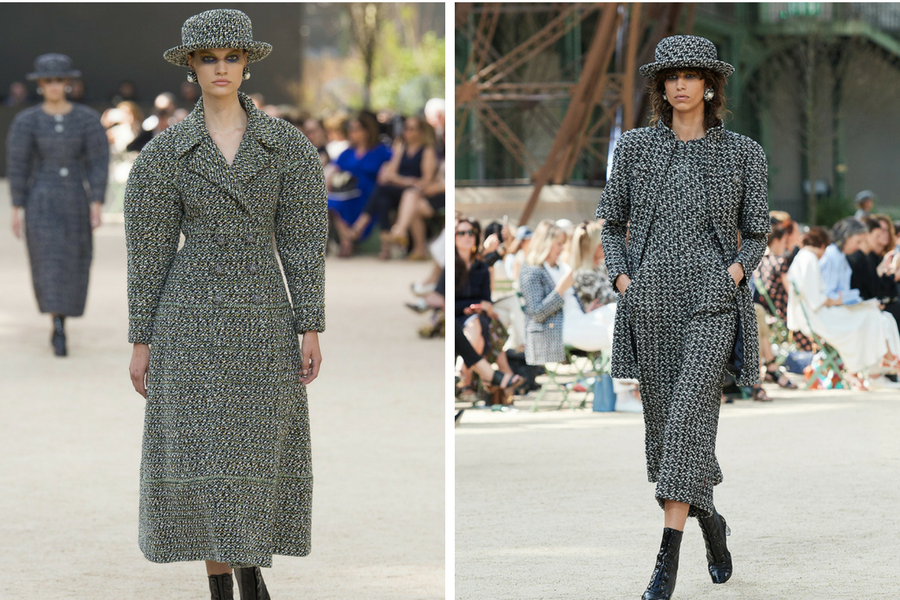 With a recreated Eiffel Tower as a backdrop: "la tour de Chanel" was the scenario for the big show. The clear DNA lines had tweed dominating the runway. Midnight twin sets in blue and jumpsuits in gray were the collection most seen outfits. Karl had them in many combinations even with long hooded jackets.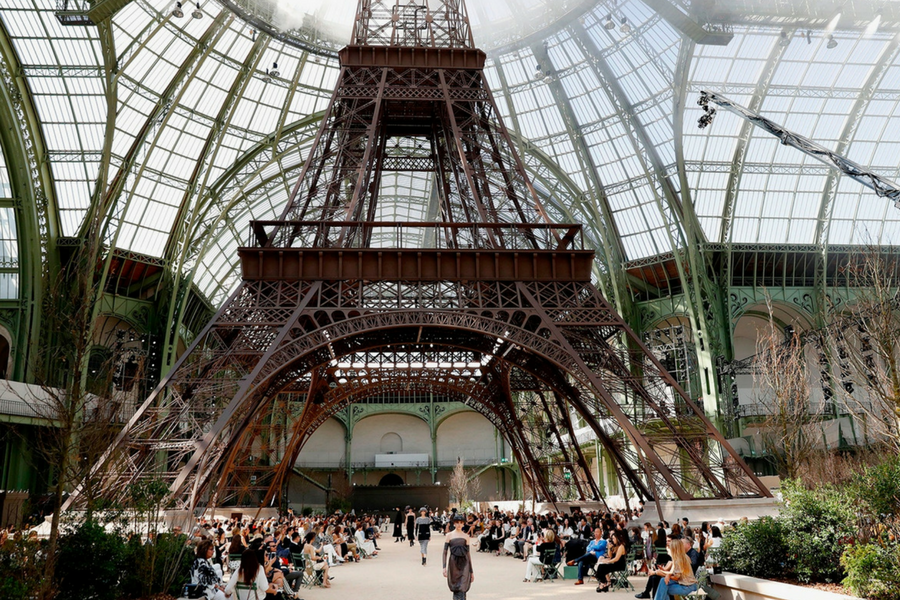 Lagerfeld's muse Cara Delevingne, American star Kate Parry, German top model and Chanel first image for years Claudia Schiffer were in the front row. As you can imagine, they were following the show and capturing the most iconic moments for their Instagram feeds.
KARL LAGERFELD HONORED
After the show, the German creative director Karl Lagerfeld received with honors Paris highest award: La Médaille Grand Vermeil de la Ville de Paris. This distinction awarded by the mayor of Paris recognizes personalities who have accomplished a "remarkable act about the capital". This award, created on 1911, honored also the 45 years haute couture career of Valentino Garavani in January 2004.
Now was the turn of Karl Lagerfeld. After the unforgettable Chanel fashion show, the city of lights returned back Karl's love for Paris. Even the Mayor of Paris, Anne Hidalgo, mentioned "You are Paris" and "Paris loves you" after recognizing the Kaiser's unforgettable contribution to Paris.
He dedicated 34 years of his career to the Maison, being the Parisian style the most reflected inspirations for the brand´s shows.
The British Fashion Council recognized Karl Lagerfeld with the outstanding award. "Karl Lagerfeld defines outstanding" commented Natalie Massenet, Chair of the BFC. His career of more than 50 years leading luxury fashion brands means that Lagerfeld has been key in the history of fashion.
---
If you like Karl Lagerfeld, Chanel or are interested in other fashion awards, you can check these other articles.