Ah, White, the color that shouts out a positive and cool vibe. Getting clothed in a white shirt is like an awakening to the openness. Actually it is one of our minimalist wardrobe-essentials. Check your closet once again if you don't have at least a white piece. If not, grab some inspiration from the many beautiful white tops from our sustainable shop.
No matter if yours is made of silk, cotton or linen; a white shirt will never fail to cast its charm in the right way.
We have grabbed some of the best looks that will give you ideas on how and what to pair a white shirt for day or night,  weekend or work, date night, etc. So 3,2,1…. Let's start!
WHITE SHIRT LOOKS
1-Weekend
On a casual Friday, when you are free from all your week workload and you are all in the mood to jot down something simple and loose but yet stylish for your outing. Then, this stylish slim linen white shirt called Cateryna from Goshopia is all you need. Easy to wear and dress up or down with a few accessories.
Time to unwind and have a happy weekend!
2-Semi-Formal look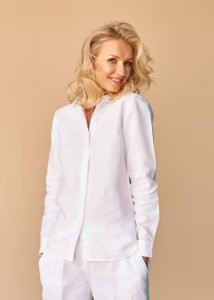 A white on white look is a total winner. Take out a slightly fitted white shirt and pair it up with a white trouser and go for an effortless and classy look. Pair up with bright color heels to complete this ensemble, not an essential but advised. Check the Martyna shirt, the Gyulia vest, and the gorgeous Valentyna jacket here. There are all made out of super high-quality linen and look fabulous on everyone! Including our boss. Here is she posing for one award nomination. Oh! Didn't we tell you? We have been nominated for the Xpedition Annual Gala Awards. (yey! and we won!)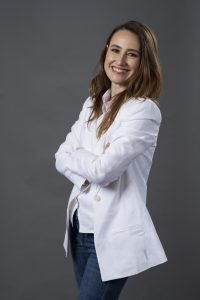 3-Comfy look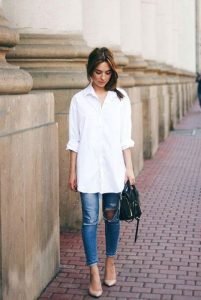 It's never too late to get back with your ex… DENIM. White shirt and denim jeans are one of the most versatile styles anyone can wear. The slightly loosely fitted long buttoned shirt with ripped jeans is the lightweight look that you would prefer for summertime. Play with handbags and accessories to add charm to your outfit. This is my favorite go-to outfit look preferred for college look.
There has always been a debate about denim and sustainability. If you have jeans already, there are ways that you can help Mother Nature still and they are so easy to do. Just wash them less. Yep! Jeans were designed to be working trousers. They don't get easily dirty so wash them only when they really call for it.
4-Office look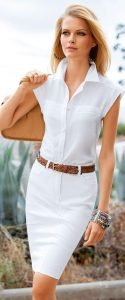 Do you want to spice up your office look? Then never hesitate to transform your shirt into a dress or match your shirt with a pencil skirt.  Add to the equation a braided brown belt to highlight your waistline and Khalas!. There you get one winning office look!
5-Date look
If you think a white and silver duo isn't bright enough, then I guess you have to think once again. If you are looking for something different for your date; tuck in oh-so effortlessly your classic white blouse into a silver mini skirt. Pull the top up open up collar buttons and play up the look with matching stilettos and a neat hairstyle.
6-Party look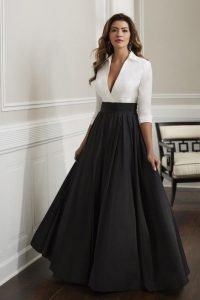 Well who said the white-colored outfit is only for a formal look or for school wears, then they definitely have to take back their word. A white shirt can rock any part as well with all it's classiness and sophistication.
When you wish to step out luxe for a party, pair a shirt with a long pleated skirt like this diva above!
7-Street look
Denim overalls are considered to be a street worth piece of clothing for so long. So, it is time to team them up with a crisp white shirt.  This look will definitely make your way for street style stardom!
8-Beach look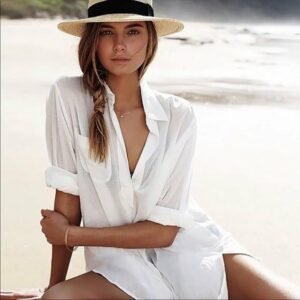 We love the beach! It gives us all that easy-breezy and relaxation vibe yeah! Like in Ibiza, in Santorini or any other Mediterranean island. Check out these combos. You only need your swimsuit, a pair of comfortable sandals and you are good to go. We have some awesome beach looks from our brand Facil Blanco. Have a look here!
9-Airport look
Here's Ms. Kangana Ranaut, the B'town actress giving us some major airport outfit ideas with a crisp white shirt. The actress amped up her style by pairing a white and black striped mini skirt with a white shirt! Zzz isn't this outfit idea worth copying?!
10-Hangout look
Inject some positive vibes during your hangout time. Cmon roll-up the cuffs of your white shirt and tuck it into pastel-colored culottes. Also, play up your look with high heels for a height boost, and don't forget to HAVE A GREAT TIME!
LIKED THIS STYLE ARTICLE?