Fashion Forward Season 10 just finished, and we still have a hangover of beauty, creativity, dreams, and hopes of the amazing designers that showcased their collections.
In this occasion, Dubai Fashion News has prepared an awesome coverage of the event. We hope you love it as much as we loved preparing it. Here you have a first article with some of the highlights of this 10th season of Fashion Forward. Let's just put it this way. In our humble opinion, this edition has been the best so far.
FASHION FORWARD SEASON 10 HIGHLIGHTS
THE GARDEN
Every season we have newcomers to this cute and curated retail space. What we like most is the accessories section. From bags to jewelry, you can see the trendiest and most avant-garde proposals. This season we also saw online shopping portals having booths, so you can see, touch and interact to what is offered online.
Don't miss the special Fashion Forward Accessories Editor´s picks we are putting together for you!
FASHION CINEMA WITH CINEMA AKIL
We love cinema! We also have done some cozy movie nights with our readers and if the movie is fashion related, then it is even better! Cinema Akil contributed with Iris (2014) and with Dries (2017) to the many activities happening in d3.
If you want to join our DFN movie nights, just follow us on Facebook. We will be posting the events there!
FASHION FUTURE & FASHION REWIND
A look ahead and a look to the past. Fashion Rewind takes us back to the past nine editions of Fashion Forward. Oh! Good memories! I am so lucky to say I came to the first season and never missed one edition ever since. The Middle East and Dubai need serious platforms like this to promote and help emerging talent. We, at DFN, are big supporters.
Fashion Future is a look to the future. With students graduated from schools such as Domus Academy (Italy), ESMOD Dubai, FAD International, Lebanese American University and Creative Space Beirut showing their pieces.
FASHION TALKS
The Fashion Forward Talks are close to epic. In every edition, they manage to bring the best speakers and talk about really interesting topics. This case, even though we felt there were fewer talks they were pretty interesting. The ones we loved most were the one from Mary Katrantzou with Ghizlan Guenez from The Modist and the one with Lana El Sahely, Ahmad Daabas, and Alia Fawad talking about how influencers changed and keep on changing the fashion landscape.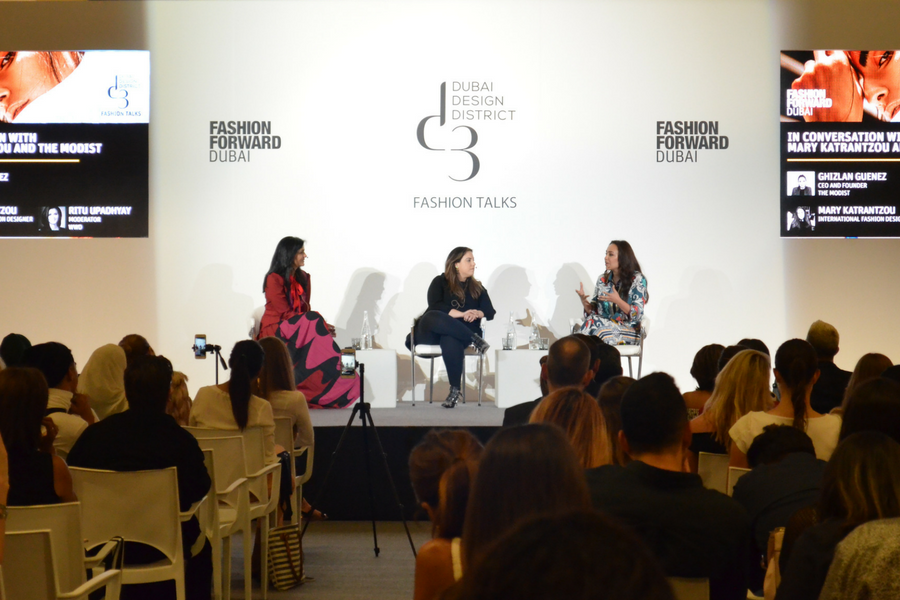 SULTANI EXHIBITION
Dr Reem el Mutwalli writer and collector showed us how the Emirati used to dress. A super interesting exhibition and a great book with lots of information if you love fashion history.
DESIGNERS
ESSA IS BACK!
We have missed this king of the catwalk for far too many editions. This time he is back, and we don't want him to disappear again. He presented a collection with black as the main color, plenty of party dresses… glamour and decadence Essa´s style!
Don't miss our review coming very soon!
LARA KHOURY
Such a free-spirited collection. Boho chic, comfortable, flattering and beautiful easy-to-wear pieces.  This girl is going to reach very high.
We will be sharing more details with you very soon.
HUSSEIN BAZAZA
As always, he never deceives us. Again, he showed an amazing collection that made all of us dream wide awake.
Of course, we will be reviewing his collection in more details in a separate article.
ANNA K.
This Ukrainian designer started really early in Fashion. At the tender age of 16, she launched Anna Karenina or Anna K. Her proposal for Fashion Forward showed evening wear with ruffles and mesh. She wants to launch a cryptocurrency- the Fashion Coin. How? We will find out! Stay tuned for a future article.
BY SAUCE BY SHOESTOVA
This collaboration had totally the imprint of our lovely Natalia Shoestova! It was fun, fun and fun. The way it was presented was fresh and cool. The models were dancing and so were all of us!
OUR GUYS ALSO HAD THEIR CATWALKS!
Of course, Fashion Forward also had space for the boys. Three designers: Babak Vosoughi, Varoin Marwah and Behnoode showed beautiful collections each of them with a very different style in mind. Amine Bendiouich did also a very fun presentation. With unisex designs and models dancing to the beat of the music.
ANAYA
Beautiful, delicate, and feminine with silks and tulles. A very wearable collection from Chathuri Samaraweera.
ATELIER ZUHRA
Shine bright like a diamond! That was the spirit of this beautiful haute couture collection. Great for weddings and special events! Totally royal! We loved every single piece they showed!
NABIL NAYAL
Nabil´s collection is a new twist of Elizabethan grandeur. Chic and elegant with extreme sleeves, broad shirts, ruffs, and tails. A really cool take on history!
ASYA KRASNAYA
A light, fluid collection, and with plenty of colors. Belts and straps all over the place and pockets in the outside make it a really fun collection to wear.
KOJAK
The inspiration behind this collection was the social genocide. The fact that you are repressed by society and that you might not be accepted as you are, brings a suffering the designer represents in red. Models walked with tape over their mouths, some with their hands tied and some with cages as bags. Very interesting!
JOAO ROLO
Joao presented a collection of gowns that are to die for. Feminine, with sequins, embroidery, sewn flowers, sheers, and silks. The colors go from white to purple, blues and bronzes…
ZAREENA
In this collection, Zareena used muted colors and a reference to antique cultures. It had a flavor to minoic, Greek, roman and some renaissance type of dresses. All very vaporous and feminine.
AMATO
There is a reason Amato has been closing every Fashion Forward from Season 1. He is simply amazing. Furne One has a wild imagination and with it, he develops gorgeous couture dresses, stage productions that are close to theatre or opera and vivid worlds he shares with all of us in the catwalks. Get ready to see Amato´s underwater world with mermaids and mystic creatures that dress impeccably.
Don't miss the many interviews and exclusive scenes of backstage we have ready for your enjoyment.
LIKED THIS POST?
Then for sure, you will love our reports from the previous edition.
Meet the designers of Fashion Forward- Day 1
Meet the designers of Fashion Forward- Day 2
and, Meet the designers of Fashion Forward- Day 3
More info on this link.