Today, we will chat with Jenny Rei, the amazingly talented model, actress, writer, model, activist, designer, and our favorite mermaid.
She worked with famous brands like Chanel and Bvlgari, and has Vogue, Harper's Bazaar and Elle Magazine talk about her and her work many times. Today in a more intimate interview, we get to know her and what she cares about better.
THE INTERVIEW: JENNY REI
Congratulations Jenny! You were into the TOP 10 of last year's 2019 @sohohouse script writing competition with your project #trashmermaid about ocean conservation, please can you tell us about this project?
I've started Trash Mermaid as a photo project a couple of years ago to bring awareness to the awful state our oceans, coastal zones and our waters are in. I've always been a nature lover, used to be a competitive swimmer and I am a free diver, so my love for the ocean and water knows no limits.
We shot the images in India on actual beaches and this is how a big part of our world looks these days. It's just devastating to see the situation yourself and back then only a few people cared and did something. Plastics, our non recycled trash and waste not only harm the ecosystem, the environment and animals but also humans are and will be affected by it. I got a lot of great feedback for the images and when the Soho House Script contest came around last year, I thought this is the perfect moment to make something more out of it and tell the real story of my Trash Mermaid, who is half animal and half human.
Right now I'm planning more images to be shot, even abroad. And I'm rewriting the movie plus I'm in pre-production to raise even more awareness of the devastating effects of human consumption and our unbalanced ways of living on this beautiful planet.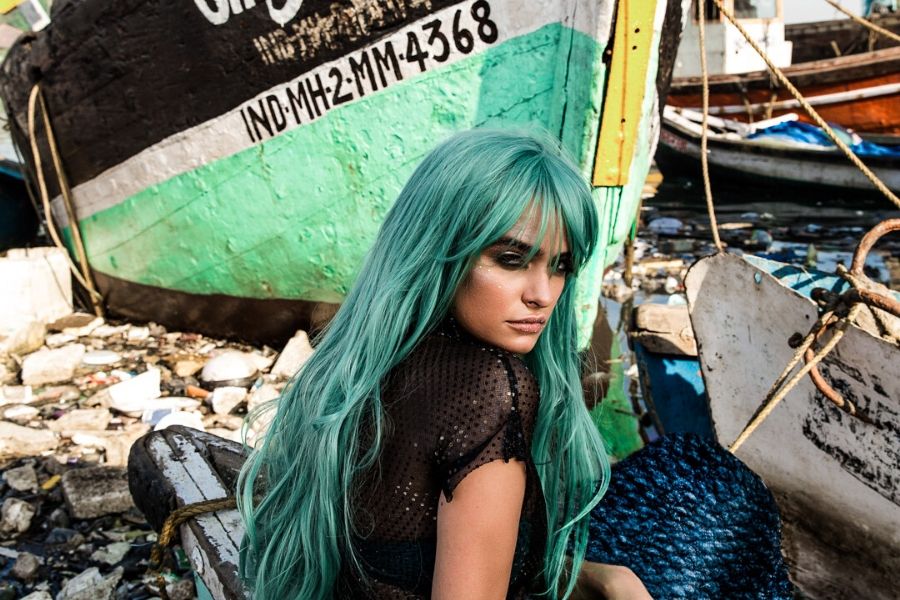 BEAUTY & BRAINS
You break the normal stereotype of a model by expanding yourself to many other fields. Designer, writer, actress, activist… How do you manage it all? Does it require boldness to express yourself in such different ways?
I started modelling at 6 years old, always loved it and still do after many years. I definitely think it requires boldness and a certain amount of courage to go your own way – a completely unknown path and live a creative life without a stable job and income.
I'm a super curious person and I love to learn new things and skills. I always tried to explore new things. A lot of models only start to explore a second option or other opportunities once they near or hit 30. The industry is still that, that you unfortunately will be losing a lot of work the older you get. Modelling itself though is not for the faint of heart either and I have a lot of respect for fellow models. It means starting usually very young, traveling years on end from one place to another, without family and maybe sacrificing education.
THE WORLD IS YOUR RUNWAY
You mention in your site that you come from a multinational background and a creative family. How did that help you?
My family is mixed from my mom's, dad's and ancestors side. We also always traveled a lot. I LOVE other and different cultures and our varying experiences as humans. I think having an open mind towards other places and people that are and live differently is so important in understanding the world and others. It's a gift to have parents that taught an open and respectful mindset. It made me learn so much more while traveling. 
My great-grandmother used to paint and make dresses herself. My grandfather Armin with whom I had an otherworldly connection when he was alive, painted parts of my clothing collection as well and when I was young he always did some arts and crafts with my brother and me. It taught me how to be creative, learn, try things. It made me really confident in my abilities and on doing things on my own.
OUR VOTE FOR JENNY REI
Beside your activities you also studied politics and social science in the university. Do you think that models nowadays have more responsibility so they need to be more intellectual and aware?
Initially while finishing school I thought I'll be going into journalism and wanted to be an investigative journalist and war correspondent. My parents obviously hated the later. I started with a bunch of volunteer works after school and then thought – to change something in the world you have to be in politics, so I studied that. I don't believe that anymore. Quite the opposite – most of the good change on this planet comes from single people and not from politics at all.
Responsibility of being knowledgeable and having awareness is so important for everyone alike. I know a lot of models who are super smart and went to university. The fact that they have traveled and worked all over the world is a plus for what they can stand for.
The problem is that even nowadays we tend to label people with one thing. For example models = are in the business of being pretty = superficial etc. We put each other in a little box instead of painting all people with all shades of grey. We are all so much more than what we do or what other people think of us from the little they know.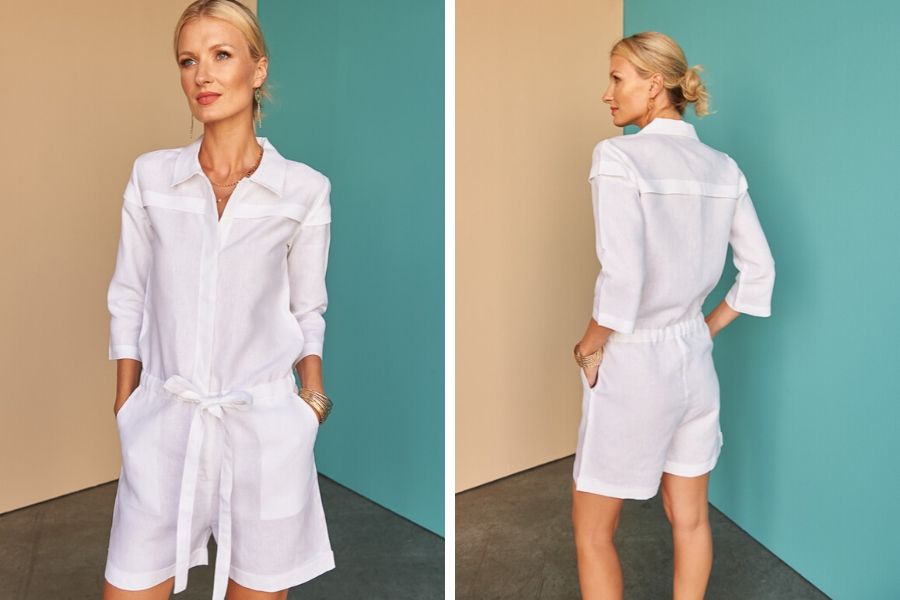 RESPONSIBLE CITIZEN
You have more than 40,000 followers on Instagram. If we talk about the role of social media, do you think that it is a great way to help promote your business?
I'm actually not a huge fan of social media. I guess I'm more of a private person and I like to live a 'real life' and not being online so much unless I'm on holidays and I have something new to show. I share mainly my modelling and ocean conservation works without a ton of words. I'm sure it's great to promote businesses if one knows all the tricks but it's also a jungle and breeds insecurities so I really have mixed feelings about it.
WHERE LIFE TAKES YOU
You are cooperating with a lot of famous brands such as Chanel, Bvlgari, Lanvin, Dove, and recently Fiat and Qatar Airport. Tell us more about this random choice of clients.
Modelling is just taking whatever you can get. I wish there was any choice in what one wants to do. Besides rent, flights, food, taxes and agency commissions there's for most no money left anyway in the end.
I was really lucky to have been modelling for the brands I've been modelling for. I'm quite short for a model and it was some strategy to which countries I went and then a lot of hard work and running around. I was already travelling for nearly a year. I've emailed every photographer wherever I was who was shooting magazines. It was also a lot of luck that they were just looking for someone like me. Some models never shoot a single magazine, but that's basically how I shot my first editorial for Harper's Bazaar Middle East and it was 3 editorials in the Maldives that we shot in 2011. Since then I've been shooting a lot of magazines, besides advertising campaigns, tv commercials and once in a while online shops or catalogues.
ABOUT BEING A MODEL
Jenny, as a  model, can you tell us What are qualities or attitudes a freelance model must have?
As a model you need to be a tough cookie to travel alone most times, face all the rejection in castings and all the jobs you won't get and accept all the criticism that you will hear mainly from your agency and sometimes from clients, too. There are exceptions and really nice agencies. But normally you're never skinny or trained enough until you're too skinny or too trained.
These days people think because the industry included plus size modelling after stark criticism from women around the world, or brands shoot influencers so the industry is more open. But the industry is the exact same unless you have the perfect measurements of a plus size model or you have millions of followers. Having the natural hip measurement size a woman of 20 something years old would theoretically have and not the size of a 14 year old girl is still not accepted. All my friends struggle with that except that one girl everyone know who has genetically tiny hips.
To be a professional model you better not talk or think too much about the above though.
Otherwise it's good to be nice and open too everyone in the industry, especially to assistants etc, they may be the next make up artist or magazine editor.
And always keep track of the jobs you've done, check your statements, pay your taxes, and never work in a country without proper working visa.
What would be the line between a professional model and someone that does modeling for fun or as a hobby?
I personally consider everyone a professional model that earns money with it as a main income or part of their income. I guess a hobby is something you do for fun and not to feed you. A lot of times modelling starts as a hobby though and can become professional.
REI BY DESIGN
You have your fashion brand @ReibyjennyRei and already you succeed to present your brand in the market. Priyanka Chopra and Sonam Kapoor are wearing your designs.Vogue and Elle India talk about the brand. Do you think the fashion industry today is more open to supporting the newcomers and startups?
I think they are. It's really consumer driven which styles are going to be in these days and we see on Instagram and Pinterest. I also feel like there are lovers for every style and even niche these days. The beauty of social media is, you can find exactly what you like.
Can tell us your tricks for your lifestyle; healthy food, training…
I love to swim, snorkeling and do yoga. At home I watch documentaries and read books, and I love to hang out with friends and cook for them.
Jenny, did you have any upcoming plan to visit Dubai soon?
I wish like we all we could travel anywhere. I used to live in Dubai for a while and love the city! So hopefully I'll be back at some point, but for now I'm in Los Angeles.
LIKED THIS ARTICLE?
Then you will love these ones too!
SLOW FASHION WORLD X CHANGEMAKERS FOR IMPACT
LEAD A BETTER LIFE WITH THESE 15 WELLNESS TIPS