The two designers behind Asya Krasnaya are super talented Evgeniya Eid and Elena Balandina from Russia. They are not only sisters but also best friends. They started their fashion journey back in 2012 and now live in Dubai.The brand represents a sport chic style with soft, good to skin fabrics and comfortable outfits.
ASYA KRASNAYA AT FASHION FORWARD
The signature concept of Asya Krasnaya is related to the Russian lifestyle and culture. They want to provide women designs that are very comfortable to be worn during the day or in the evening.
The two designers opened day 3 of Dubai Fashion Forward with the collection A Sorta Fairytale. The collection boasts 19 looks with easy-to-wear pieces that you can style for day or evening occasions. We can say that this collection is fresh, light and soft! The dominant colors were white, grey, brown. Although some silhouettes introduced vibrant colors like red and orange.
The collection is composed of diversified looks like pants with crop t-shirts for a summer look, pants with crop sweat-shirts that can be worn in a colder weather. There were also fluid dresses and long skirts great for daylight and that you can easily style with heels for the evening.
The collection was very simple. Although they paid a lot of attention to details in every look. For example, the white monochrome looks with some colorful patterns on the tops. The spirit of the sport chic is in every piece.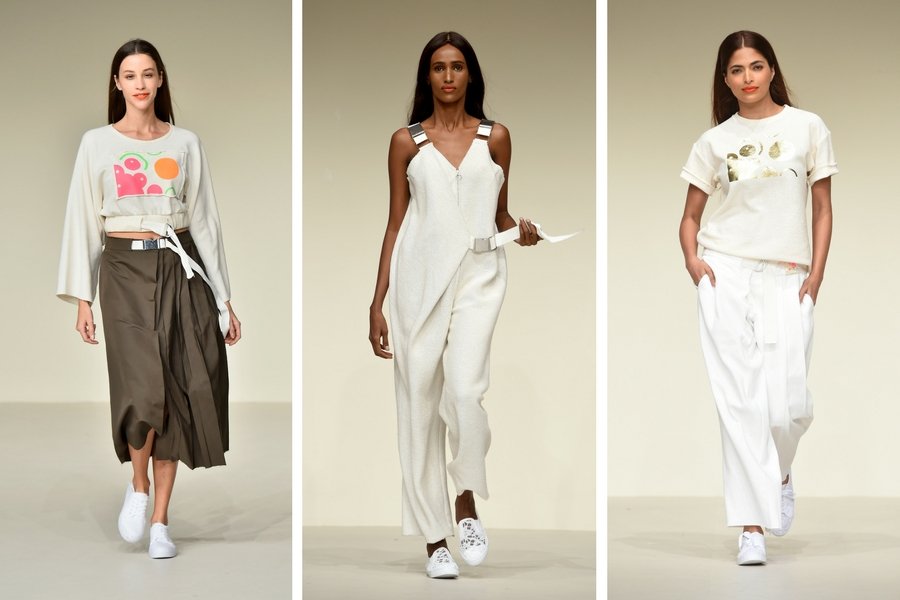 Check also the white dress with sporty laces on a side or the lace on the collar of the grey and orange dress. Asya Krasnaya added to some of the pants with more classy fabrics, stylish pockets with nets to keep the mix of sport and chic.
Most of the looks had belts used usually for sportswear. Also, all the models were wearing sneakers to complete their outfits.
Asya Krasnaya used fabrics like taffeta and cotton-made fabrics. These fabrics are very comfortable but are very classy at the same time. All this makes the pieces easy to wear with sneakers in order to have a sport chic look.
The make-up was light for the eyes with flashy orange lipstick for the lips. Again showing the signature of the brand by mixing softness and fresh colors.
LIKED THIS ARTICLE?
Then you will love these ones too!
FASHION FORWARD SEASON 10: THE HIGHLIGHTS
FASHION FORWARD SEASON 10: SPECIAL ACCESSORIES EDITORS PICKS
OUR SPECIAL REPORTS ON FASHION FORWARD DESIGNERS: