As you know, we have now our own Celine Store in Dubai Mall! The first part of the new winter collection will be available in Dubai by the end of the month and we cannot wait. Here's a sneak peek of what you can expect!
WHAT WE LOVE ABOUT CELINE
Celine House has always amazed us with the most stylish Frenchie trends. And this season, you won't be disappointed because Hedi Slimane is suggesting a 70's Parisian Silhouette inspired collection. In this collection, you can find elegant and more casual pieces that represent totally the bourgeois French girl style.
First of all, you can find all the essential winter colors like camel, white and black. In the set of pieces, there are lovely camel coats that you can wear with jeans or black pants or even over a small black dress (the essential petite robe noire that you most probably already have in your closet !) to have the perfect Parisian style.
THE LOOKS
You can also wear this white shirt with jeans to have a more casual look. Another combination could be this long plaided felt blazer with jeans and a discrete belt and these knee-length boots. Hedi Slimane is suggesting also leather pieces like black jackets or these leather pants that are very trendy and that you can combine easily with knit sweatshirts and boots for a warm look.
Some of the looks are more kind of "borrowed from the boys » trend with black pants, blazer, and white shirt. The perfect office look which is modern and comfortable at the same time.
Also, more dressy statement pieces are available like this top with a node shaped collar.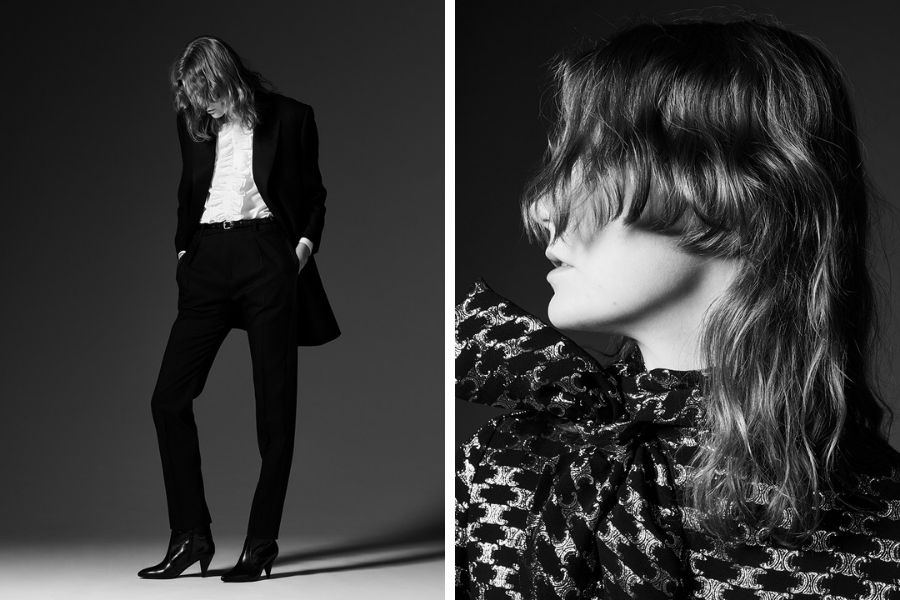 In the accessories, there are different bags styles and sizes like this leather bag for a classy look or more casual looks with bigger leather bags that are perfect for a daily look.
Hedi Slimane suggests simple and elegant jewelry like this leather camel bracelet with a gold bar or this necklace with stars and very simple pendants.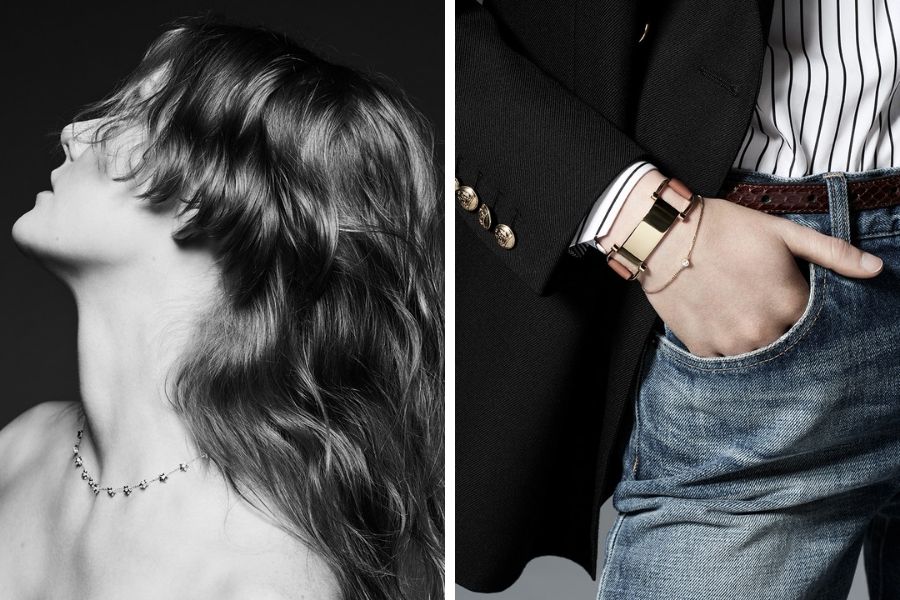 And finally, the must-have aviator sunglasses that were prevailing in Celine's Women Winter 2019 collection show will be available!
Are you as excited as we are? Say Yey!
You can see the full collection here.
LIKED THIS ARTICLE?
Then for sure, you will like these articles too!