Paris is the city of lights, the city of love, the city of gastronomy but Oh la la!.. Paris is also the city of fashion. As a Parisian, I have selected my favourite fashion spots in the city. Make sure you check them next time you visit Paris. These Paris cool shopping spots are all worth the visit.
PARIS COOL SHOPPING SPOTS
Le 66 is a concept store of 1200 m² over 4 floors. There is a branch in Dubai, but the Paris one is out of this world.
You can find ready-to-wear brands, shoes and accessories that aren't available everywhere in Paris like Chiara Ferragni, Noor by Noor, N21 or Philosophy Di Lorenzo Serafini. There are more than 200 designers. So I will let you discover the rest!
Where is it ? 66 avenue des Champs-Elysées. It is hidden inside a gallery.
Boutiques du Marais
Le Marais is an historical and fashionable district in Paris. You can find a lot of hype boutiques like « Matières à réflexion » that have unique pieces.
And if you are an art lover, there are also a lot of Art Galeries and the famous « Picasso Museum ».
Where is it ? Rue des Rosiers, Rue du temple… 
La Vallée Village is the best market village. There you can find the best brands with at least a 33% off. And guess what? This is outside the official sales period! During the sales, it is just even better.
You can find brands like Polo Ralph Lauren, Armani, Lancel, Lonchamp, Jimmy Choo…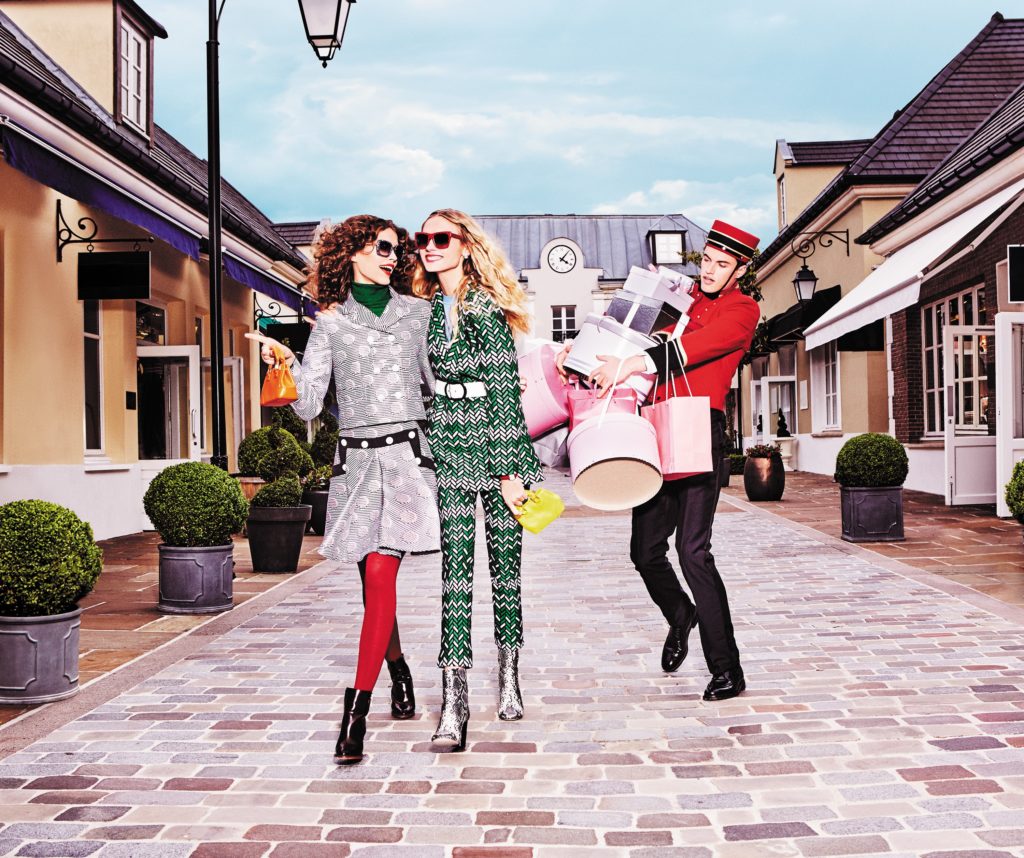 There are french brands like Sandro, Claudie Pierlot. In this place you can find unique and French style pieces. Make sure you visit it if you are looking for the Parisian look!
Where is it? 3 Cours de la Garonne, 77700 Serris.
Galeries Lafayette's is the second most visited place in Paris after the Eiffel Tower. Imagine!
It is a very famous French store. By seeing its beautiful building, you already know that you're going to love it! You have a branch in Dubai Mall but nothing beats the original.
In Galeries Lafayette, you have brands that have stores in Paris and some others that are only available in Lafayette.
There are 7 floors, one for bags, beauty, and accessories and different floors for women fashion and men fashion and one for shoes. Yes, there is a floor only for shoes!
Where is it? 40 Boulevard Haussmann, 75009 Paris.
If you are a luxury brands lover then Avenue Montaigne is made for you! In Avenue Montaigne, you can find luxury brands stores like Dior, Baby Dior, Prada, Céline…
Where is it? Avenue Montaigne, 75008 Next to the famous Champs-Elysées. 
The Marche Saint-Pierre is the Ali Baba cave for fabrics. You can find all kinds of fabrics from lace, to silk to jeans. You can spend hours in this store of 5 floors!
Don't forget to visit the famous Basilica of the Sacred Heart of Paris – Our Sacre- Coeur! And don't miss out the breathtaking view of Paris from up there… Make sure you have batteries and the selfie stick before going up the stairs.
Where is it? 2 Rue Charles Nodier, 75018 Paris.
To end a day of shopping what is better than a hot chocolate? Ok, being in Europe, you might be thinking something stronger. But trust me in this one.
You can drink the best real « chocolat chaud » in Carette. Why is it real? Because it's real melted chocolate! And it's delicious! You can choose to have it with or without « Chantilly » and with or without a delightful dessert!
Carette offers irresistible little biscuits with some drinks so if they didn't bring them for you, ask for them!
Where is it? Trocadero place next to the Eiffel Tower.
How to get to Paris from Dubai?
You can fly direct with Air France and Emirates. In June, the return flights range from 730 USD to 1050 USD.
---
So are you ready for a Frenchy magical shopping experience? With this list of the Paris cool shopping spots, you will have a blast. Just don´t forget the credit card and have a good shopping companion!