Art Dubai 2018 celebrated its 12th edition from the 21st to the 24th of April. This year, the largest art fair in the UAE featured 105 galleries from 48 countries. Space got split into 2 gallery halls for Contemporary Art and one Gallery Hall dedicated to Modern Art.
HIGHLIGHTS OF THE ART DUBAI 2018
It wasn't easy, but here you have our selection, the highlights of this Art Dubai 2018 edition.
DASTAN -Tehran
Once again Dastan Gallery surprises us. This edition they presented the incarnation of "Mossavar- Nameh" or "Book of Images". Also, the booth layout couldn't be more accurate. It has a structure designed and produced by artist Mohammad Hossein Gholamzadeh. And, it allows you to pass the pages of this book and admire the selection of the Iranian masters from the 20th and 21st century. They all share their interest in books and now they have had the opportunity of being featured, figuratively, under the same one.
After the opening of the original space in 2012, Dastan's Basement counts nowadays with other parallel projects, V- Gallery and Electric Room as part of Dastan Outside and Dastan+2.
After Art Dubai 2018, they will be exhibiting in Art Basel Hong Kong.
TEMPLON – Paris & Brussels
This established gallery, reference in the Contemporary Art scene in France, was founded in 1966 in Paris. Over the years, many artists internationally well-known have exhibited. Today it promotes a dialogue between generations: established artists, international mid-career artists, and the experience of younger artists.
In Art Dubai 2018 Templon has presented this colorful work of the African artist, Kehinde Wiley. In his works, he talks about power and prestige in western symbols of male domination.
ESPACIO VALVERDE – Madrid
This Gallery is back to present a solo exhibition by the Spanish artist Robert Ferrer i Martorell.
A mysterious, geometric and three-dimensional work, "A door open to the invisible" in which we can feel serenity and silence transmitted by the monochrome palette. Also tension between the lines, opening this door to another room.
Espacio Valverde also supports projects where Philosophers, Artists, Writers, and Poets are involved.
AGIAL – Beirut
Among other artworks, they have presented three pieces of "Perpetual Identities" by Katya Traboulsi. They are replicas of Lebanese bombshells with decoration from different national identities. We could find, from left to right, the ones representing Morocco, Japan, and Spain.
The main role of the gallery is the promotion of Arab art around the world.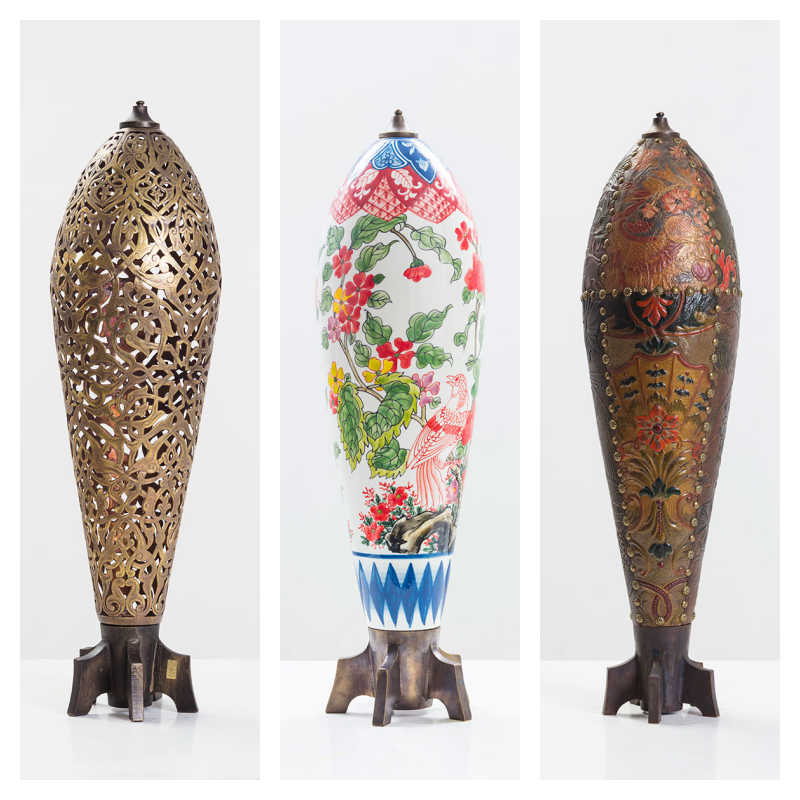 SASKIA FERNANDO – Colombo
Saskia Fernando Gallery presents a selection of Saskia Pintelon's portraits, part of her solo exhibition "I am me". They are the result of reinterpreting portraits of people she met when she moved to Sri Lanka. This work is a remake of her "Faces", which she has created by adding elements to getting completely different characters.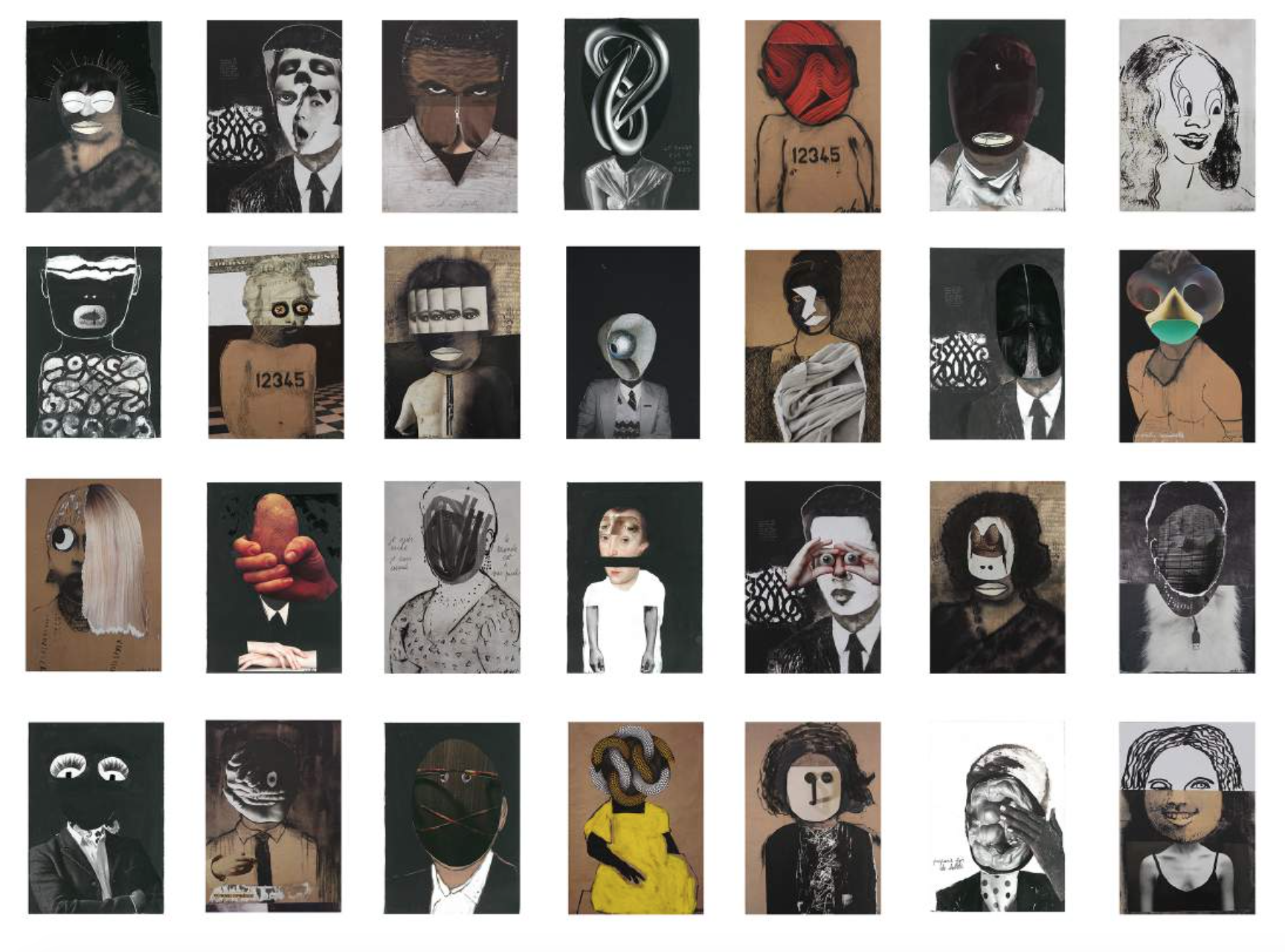 WENDI NORRIS – San Francisco
Gallery Wendi Norris has presented three artists under the same theme in this  "Wanderlust". Yamini Nayar, Val Britton, Peter Young main interest is exploring unknown places and they have reflected it in different art pieces.
Yamini Nayar workstyle is a mix of painting, photography, and sculpture. Starting from creating a sculpture in order to get the ideal photography of it.
Peter Young has presented his particular minimalist interpretation of the cosmos.
Val Britton's work "Continental Interior" shows the shape of historical topographical maps of the Middle East. The beauty is that is made out of different kind of hand cut papers.
THE GLOBAL ART FORUM
This conference is the largest in the MENA region. Dubai Culture and Arts Authority and Dubai Design District (D3) are the hosts. It's part of Art Dubai's cultural program and in its 12th edition, different artists, and experts discussed the power, paranoia, and potentials of automation under the theme "I am Not a Robot".
In charge of the program was the Commissioner Shumon Basar, together with Chief Operating Officer and Futurist-in-Chief of the Dubai Future Foundation Noah Raford, and Curator of Digital Culture & Design Collection at the MAK, Vienna, Marlies Wirth, as Co-Directors.
THE ABRAAJ GROUP PRIZE
Aiming to support talented artists in the Middle East, North Africa, and South Asia region, Abraaj Group Art Prize provides the resources to develop their artworks, giving them the opportunity to gain international recognition.
Curated by Myriam Ben Salah, Abraaj Group Art Prize 2018 celebrates its 10th anniversary presenting Lawrence Abu Hamdan work, the winning artist.
Pieces from shortlisted artists: Basma Alsharif, Neil Beloufa, and Ali Cherri were displayed in the space dedicated to the Abraaj Group.
ART FOR THE LITTLE ONES
Sheikha Manal Little Artists Program celebrates its 6th edition, featuring Japanese-Australian artist Hiromi Tango who will present her project Healing Garden. Children can contribute creating a space based on local plants and flowers.
Also, the program gives the opportunity to the youngest ones to explore the Fair with the Discovery Tours.
Commitment to education and cultural development is encouraged by Sheikha Manal Little Artist Program, allowing schools to take part in the Artists-in-Schools initiative and awaken children's interest in Art.  
What´s new in this edition?
RESIDENTS
The inclusion of the residency program brings Art Dubai a new perspective. 11 artists from different countries took part in a 4-8 weeks residency under the patronage of in5 and Tashkeel in Dubai and Warehouse421 in Abu Dhabi. Besides producing their own pieces, the artists could work together and participate in different activities during their stay.
All the artists highlighted how enriching it was to take part of the program. They were grateful for the opportunity Art Dubai gave them to work in a different environment and meet local people and other international artists.
Pablo del Val, Art Dubai's Artistic Director, commented that "it's been extremely rewarding to launch Residents and see it culminate at the fair. This initiative is in line with our objective to both engage communities and attract new energies to the fair and city."
---
For more information about Art Dubai 2018 visit:
Web – Instagram – Facebook – Youtube
LIKED THIS ARTICLE?
Check the other art-related articles below!
LOUVRE ABU DHABI, A MUSEUM FOR THE WORLD
THE VENICE BIENNALE: VIVA ARTE VIVA
THE AJALA PROJECT: ART WITH A SOCIAL HEART 
WORLD ART DUBAI 2017 OPENS ITS DOORS