The theme of this year´s MET Gala was "Heavenly Bodies: Fashion and the Catholic Imagination". Such a good theme to play with and still, we saw some pretty standard so-and-so looks. But let's focus on the ones that went with the theme and rock it!. At the end of the day, it is supposed to be a fun and fund night. Thanks to this event the MET gets a massive amount of funds and visibility.
THE MET GALA 2018 HIGHLIGHTS
Amal Clooney was one of the first ones to arrive in a pretty unique outfit from Richard Quinn. A corset in silver metallic with a long flowery train and pants. How cool is that! Actually, we saw quite a lot of add-on trains, whether with short skirts or with pants. I love this trend I must admit.
We need to talk about other trains…the very looooong trains of Rita Ora in a black number from Prada and Nicki Minaj in an intense red Oscar de la Renta.
We can not speak about the MET Gala and don't mention Rihanna. She is the new MOM (or whatever the term for the female Pope). Miter and all! She dressed in Maison Margiela and as usual rocked whatever she wears.
Another highlight was the angelic Katy Perry. Not sure how many Red Bulls she took but those wings are totally amazing! Versace is the one signing this look.
GOING WITH THE THEME- GOING TO CHURCH
As the theme could go we suspected we would see quite a lot of nuns, priests, virgins, and popes.. but we also had queens. Check out our selection of the best Queens. Emilia Clarke has an advantage in this one. Not everyone is Khaleesi, mother of dragons.
There were quite a lot of crosses around but most of them were kind of small. We preferred the ones that Jlo (a sexy Balmain templar lady-knight.. Balmain is all about armies at the end of the day!) and Laura Love wore. There! Statement cross!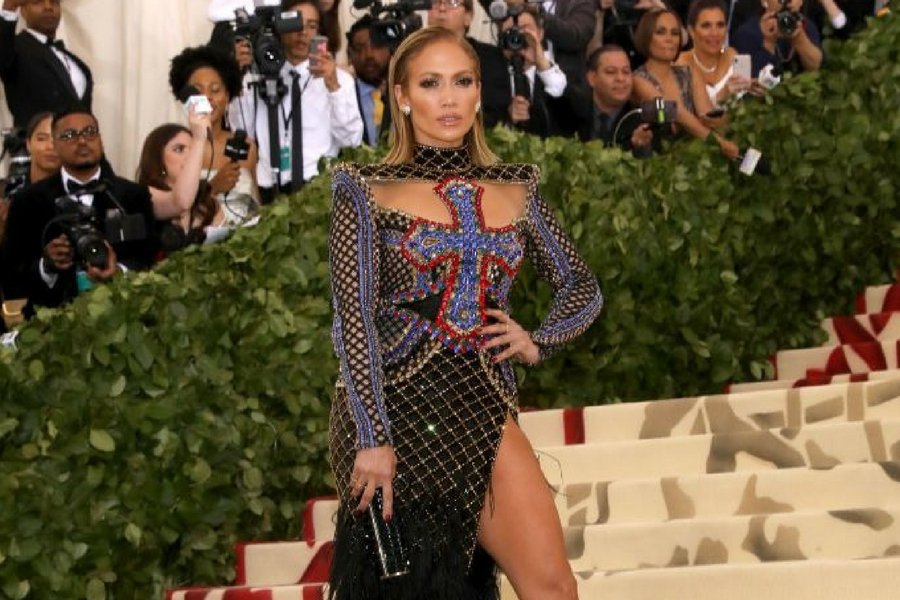 Some other guests played the cardinal/ priest card… Check Ruby Rose and Taylor Hill. I love the cape! and actually many other dresses that were pretty standard, played a bit with the theme thanks to similar capes.
Kate Bosworth in a white bridal Oscar de la Renta was ready to say I do! Winnie Harlow was in the same mood to tie the knot. Some couples matched their looks.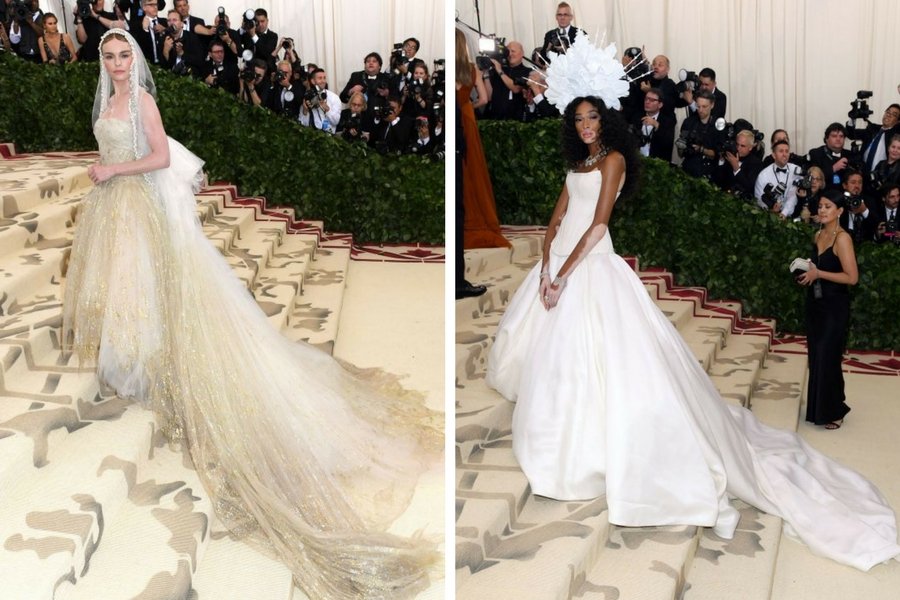 FROM HEAD TO TOE
We saw quite a lot of interesting tiaras and headpieces but besides Rihanna, we got amazed by Sarah Jessica Parker´s. Now you can pray the fashion goddess of Sex in the city.. she has the altarpiece ready for it! lol
The colors that dominated the night were black, red, white, purples and metallics. Together with high boots, and tons of jewels, we saw some interesting belts and as mentioned before headpieces, crosses, and long trains.
H&M dressed some of the attendees. Who would have said they were in a high street fashion brand! Check them out!
The men normally are not too showy, but we loved how these two looked.
THE NO-NO´S
I know fashion critique is tricky. Fashion is a way to express yourself so it is a matter of taste. That is, totally subjective. And besides, I feel terrible for the ladies and designers that are behind the looks. No one wants to be in such a list. Still, if I have to be honest these looks were the worst of the night in my humble opinion.
LIKED THIS ARTICLE?
Check our other fashion related articles!