Hanane Fathallah started blogging back in 2012. Since then, she has been under my radar in a very good way. I have been watching carefully her work in the region with the plus size women, from Dubai where she is currently located. She has a voice at least acknowledged by the media. Her voice opened a much-needed path for plus-size women in the region. In 2017, she created the "Middle east plus size collective".  The first and only platform to highlight and celebrate plus size women in the MENA region was out in the world.
Wife of the radio host Hass Dennaoui best known as Big Hass, a mom activist for her autistic beautiful son, Hanane is much more than a gorgeous woman, is a one of a kind for sure.
We had a deep conversation on a brand new subject in the MENA region: plus size women, the bad, the good and the ugly.
The beginnings
When and how you came up with the idea to create a platform to highlight the plus size to the Arab world?
I think it all started as a personal need for fashion. I was always a big girl – plus size girl -and fashion in my size wasn't always available. When I was in my teen years, I was the tall big girl amongst my friends. They would all easily shop from renowned teen-friendly trendy fashion brands, whereas I had to hunt for that "XL" and sometimes I had to dig in the women's section (even men's section) and keep in mind we are talking about the 90s!
I am sure we all have similar stories, and I think it was only after I got married (along with the struggle of finding a plus size wedding gown) that I realized that there had to be a way out of this dissatisfaction with the fashion market. Being a freelance designer, I spent a lot of time working from home. So as a hobby and to voice out my frustrations, I decided to create my blog Nounzilicious (now called Curvy Nounzie) in order to express my feelings, to attack the fashion status quo and perhaps to slowly create a community towards positive change.
Being Lebanese, I faced a lot of struggles in finding stylish clothes to wear and in dealing with society's misconceptions. The judging comments and looks from strangers and close ones were triggers to my anxiety. My blog has been a great space to share my journey. Influenced by many international plus-size bloggers, I decided upon a goal to create a plus-size and body positive community in the Middle East. It was important if we wanted to see considerable change. I searched the internet for fellow plus-size bloggers (and sometimes models) that also had the same passion towards fashion and same yearn to break barriers. I met so many incredible women, who many became my friends.
That's when The Middle East Plus Size Collective was born…
How many plus-size bloggers, you tubers and models you estimate are in the region?
It is funny, I thought about this question just a few days ago. I can honestly count at least 50 plus size women involved in the plus size and body positive movement in the Middle East. Many are living in the Middle East, and there are some who are from the Middle East but live abroad. So their contributions are also as valuable as us living in the MENA region.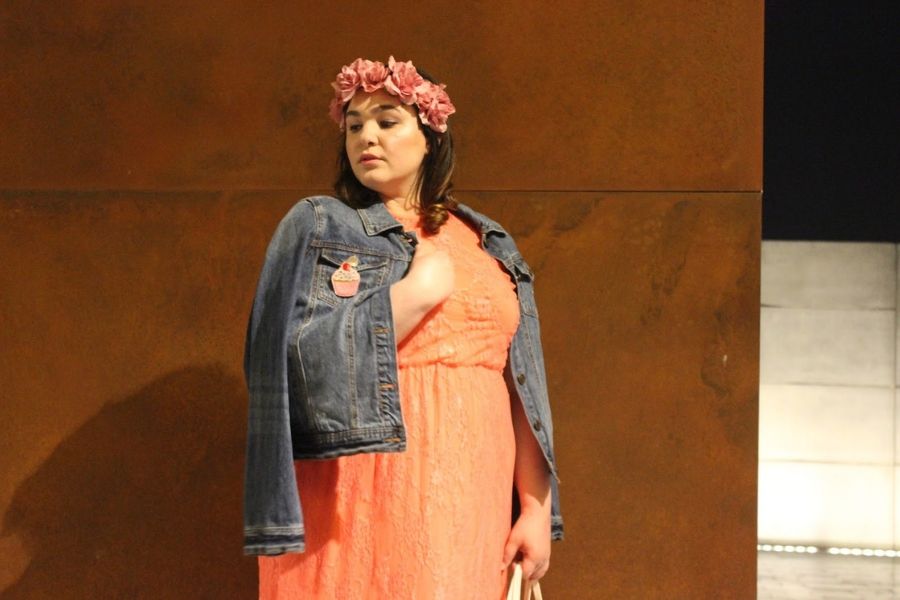 AS CONSUMERS
Plus size women have pretty much zero visibility in the media and fashion in the region. But what about as customers. Do you have options to buy at any style and size?
I agree! There is so much more to do, and not just in terms of changing the way the fashion market is, but also in the way society thinks, acceptance of others and their differences, inclusivity over exclusivity, all in the aim to instate a more loving and body-positive ecosystem.
As for shopping options, we are too limited. Recently, a lot of fashion brands that carry plus size ranges closed their stores so the odds of finding stylish clothes keep going down. We rely a lot on online shopping but that also robs us from the actual and fun experience of shopping in stores, like any woman in standard sizes.
That said, there seems to be confusion and I am a bit perplexed myself. On one end we see these brands closing their doors, but on the other hand, the media FINALLY decides to speak about "plus-size" – very lightly up until now. Even though I noticed that it is mainly being hijacked by the luxury scene. All packaged in a socially acceptable gift box for people to see. It is so ironic how only the business side of things and high-end aesthetics appeal to the masses. We lack a sense of togetherness, in a general sense.
THE PURPOSE OF HANANE´S WORK
So far we have seen an interesting –all of the sudden- need to show and portray plus size women in the media. Do you think is because they got the message or they are jumping into the body-positive movement with financial purposes?
That's exactly what's going on! Their timing is really weird, knowing that we have been seeing a lot of plus size stores closing in the past few months. They don't really care about "plus-size" women. They might be ok with the term and physiology of "curvy" women because it is still conveniently socially-acceptable.
The media is clearly riding the wave of the plus-size and body-positive movement. Mass media is two-faced: they couldn't not feature the fact that Ashley Graham came to Dubai. In order to put the pieces of the puzzle together and to sell the lie that they support plus size women, the luxury scene jumped in and pretentiously took all the spotlight, without genuinely caring about the actual struggles of plus size women. It is all for show and now they are swimming in their new gimmick. It makes me angry because they have ignored the community of bloggers who are genuinely in it for change.
On another note, the media, editors, and agencies have been shedding light on only ONE "spokesperson" for the plus-size movement, who happens to be a plus-size model in the Middle East. With this continuous attention on her, unfortunately, she has shown zero interest in making a minimal reference to the plus-size scene in the MENA. Instead, she has taken all the credit, as if it were a plus size Renaissance in the Middle East, only thanks to her. As for us, we have been in the shadows but we are collectively and individually working to step out them surely and fiercely. Many women who are part of the community are making moves and pursuing, for instance, modeling and even entrepreneurship, covering the fields of plus size fashion, body positivity, self-love, and mental health.
BREAKING BARRIERS
How has been for you being a pioneer not only in your country but in the region?
There is still so much to do I think. I am considered mama bear to all my peers. All these amazing women who believed in my vision in 2017. I believe in women supporting women! I might be a change maker and community initiator on a small scale, but my ambitions are bigger of course. My wish is for the plus size and body positive movement to be normalized in the Middle East. That's the ultimate goal!
The actual Middle East Plus Size Collective activities have been on hold lately, and I have decided to keep the Instagram feed as an inspiration platform and space where I can document the movement, in ways I am still trying to work through. Hopefully, the plus-size community will shine with or without my help, but I definitely want to witness it all, someday!
We need to break a lot of barriers to be heard and normalize the fact that the needs of plus size women are as valid as any.
Your fellow plus-size bloggers what kinds of feedback have about not being represented in the media?
There is a lot of solidarity amongst the plus-size bloggers I know. They have also expressed their frustration towards the lack of visibility and attention to us. Plus-size models are slowly coming out, and they are mainly booked for e-commerce for now. It is a great start, but I hope we will hit a turbo button soon, because we all want to eventually share our narratives on a regional and if lucky, on an international scale.
HANANE FATHALLAH: THE BODY ACTIVIST
Hanane, did you had issues to accept your body and/or size?
No matter what size you are, body confidence is a variable. It fluctuates depending on so many things like your mood, your surroundings, your health, and much more. I never had issues in accepting my body, but I had anxiety and issues with people around me who had to point me out, and who had a problem with the way I looked. Weight was always a topic that people would suggest carelessly and in an insensitive manner. I used to also hear the famous "You have such a pretty face, you would look so much prettier if you lost weight".  I know that some people might have good intentions, but what triggers me the most is their clumsiness in bringing up a sensitive and – above all – very private and personal topic. It is basically none of their business.
At one point in my life, when I was in college in Beirut, I hit my heaviest and I went on a calorie-counting diet. It was supervised by a nutritionist so my lifestyle changes were based on healthy steps. I went from a size 22 UK to a size 16-18 UK. I was still a plus-size but I remember I was happy. It helped with my self-esteem because I was now fitting in the XL of the standard sizes the fashion brands available in Lebanon.
As women, our bodies transform through many stages. For example, after giving birth, I was learning to accept a new body. Throughout my pregnancy, I completely embraced my baby bump as a plus-size mom-to-be. After my son was born I lost the entirety of the 20 kilos I had gained – with no effort or exercise. However, because of the C-section, I have that belly fat that I sometimes feel self-conscious about. That said, I love the way I am then and now. People need to know that there is always room for improvement. All depending on personal choices and responsibility.
FEWER OPTIONS
Why do you think so many size-inclusive brands are closing?
I think there is a lot of laziness coming from the PR and marketing teams handling the brands that cater to plus size women. First of all, there is zero visibility on social media. Companies need to hire fashion enthusiasts who are creative, ethically and academically qualified individuals, and who are also aware of the evolution of FASHION, in terms of style and size diversity. So, when the statistics of the brands' social media account show that there is no interactivity, they conclude that there is no demand which is completely unfair!
For example, River Island decided to pull out all their plus size ranges from all stores across the UAE. I am sure that applied everywhere else in the MENA. If you go now and have a look at their old Instagram posts, you can count on ONE hand the number of times they shared any post that would highlight the fact that they carried plus size. I got a lot of messages once when I addressed this on my instastories. Many women were very shocked and had no idea that plus-size was even available in RI. Sure, it is our job as bloggers to inform but it would also be helpful if we had the support of the brands.
Numerous times did I suggest collaborations, without payments but rather pitching ideas to represent the scene, the actual women, the plus-size bloggers who are genuinely in it for the cause.
But no, they are turned off by our (smaller) number of followers and prefer to ignore us.  You see the number of followers is always on their radar and it is their currency. They don't pay much attention to you if you don't have at least a few thousands shadowing your every move. I find this against my understanding of what true influence is. I am more about quality rather than quantity or lack of quality.
So, because of this chaotic circle, plus size brands and sections are disappearing.
Or maybe, online shopping is taking the world by storm. It could be both.
Is it realistic to launch luxury size-inclusive brands for the plus-size average customer while others are closing?
11 Honore is now available in UAE. Is that a good thing? Yes! But is it enough? Of course not. Their garments don't comply with the average plus-size person like myself. I cannot buy all my dresses and basics from there. I would probably think about investing in a gown if I had a special occasion. Even then, I look for quality and affordability.
For instance, take the brand Eloquii. Their prices are higher than the usual ASOS and similar brands but they are still in the affordable range. Their quality is impeccable, the styles are on-trend and they genuinely think about how to complement plus size figures. We need something like that!
Luxury brands cater to people who have the means. Not everyone can afford their items. So, the addition of them being "size-inclusive" will not make them superheroes. It will not really attract me or make me splurge on their clothes. Launching luxury size-inclusive brands will not be the backbone of the plus-size movement in the Middle East. Unfortunately, women in the Arab region are obsessed with luxury and I don't say it lightly. Luxury does not mean success, it is just a lifestyle. I am just not part of it.
PLUS SIZE ON THE MEDIA
As a plus-size woman, what changes you aspire to see in the media, fashion, and society?
We need to have more plus size women on magazines covers, more inclusivity in fashion weeks and catwalks, more representation, and visibility. No more stigma about plus size women, more understanding and tolerance. We need to be under the spotlight, be able to share our stories and to have an open unapologetic dialogue about being plus size and body positive.
More platforms and safe spaces should facilitate this transition and introduce new norms.
There is a very controversial point, but you are the perfect person to tell it like it is. Are plus-size women attractive to men in the region?
Based on how shallow society can be, the cheeky answer would be I think they secretly do. That's what my husband always says. But the honest answer would be that this question somehow objectifies women. I know that first impressions are based on physical attraction but I think we should transcend this ideology. I think it is more about energy attraction, even if it is all about what we see first. On the other hand, there will always be that basket of misogynistic nutcases who think plus-size women are lazy and obesity promoters.
If you had the chance to talk to Hanane the little girl, what would you tell her right now?
It is all going to be ok. You will keep rocking your shyness, but your fierceness will increase. I understand now why you had tummy aches: don't let your anxieties take over you. You are going to be an amazing, down-to-earth, good daughter, protective sister, unconditional friend, happy wife, devoted mama, graphic designer, plus size blogger and finally, community creator and bodyposi mama bear to many like-minded babes!
THE MESSAGE TO PLUS SIZE WOMEN
To all those plus size women fighting to be heard, respected,… what could you tell them?
Voice it out! Write it down, keep a diary, create a blog, record a video, start a YouTube channel, pamper yourself, embrace your body with all its beauty and imperfections, meet like-minded people, plan meetups, create an Instagram account and start posting outfits photos, compliment yourself, treat yourself, run, dance, whatever you need to do to unleash your essence and your voice.
All this in the purpose to increase your confidence. Confidence is like a magnet: it attracts people, energy and events that mimic your vibe. Above all, no matter what, don't let anyone dim your glow. Your mission is to keep it intact.
Imagine that you have the power to create a plus-size clothing store, how would it be?
That would be an awesome opportunity to unleash creativity! Not only will it have the most beautiful pieces to try on and buy, but the space will also be inviting, interactive and Instagram-friendly. It will have artistic corners where you can take the coolest selfies and group photos, body-positive slogans on the walls, a makeup booth that looks like a vintage ice cream truck, an on-the-go blow-dry station, a small colorful coffee shop area. It will ultimately be a store where you can spend a couple of hours surrounded by good vibes. Most importantly, BIG FITTING ROOMS with fun reminders on the mirror of how beautiful you are! We can still go crazier…
Reach out and say hi to Hanane in her blog, her Instagram, her Facebook, or her Twitter.
LIKED THIS ARTICLE?
Then for sure, you will love these ones too!
and one of our favorite podcasts with our beloved friend Shomaila- that happens to be plus-size influencer!