You better be! Dubai World Cup is around the corner. Kelly Lundberg, celebrity stylist, author and creator of StylemeDivine.com, hosted a beautiful event at the Anantara The Palm. There, milliner Karen Hamilton showed her beautiful creations.
The Anantara hotel organized a shaded area in the terrace of the Lotus Lounge, overlooking the Palm fronds. The weather was perfect, same as the high tea served with cute sandwiches and colorful macarons.
Kelly, in a beautiful Zayan The Label dress, is an amazing host, taking care of everyone's comfort and making introductions. As she is going to be judge of the next Dubai World Cup Style Stakes, she shared with us the secret weapons to great style at the races: Self-confidence and a statement headpiece… such as Karen Hamilton´s.
We couldn't resist but to ask Karen Hamilton all about her creations and the trends she is seeing at the races all over the world.
THE INTERVIEW WITH MILLINER KAREN HAMILTON
As a milliner, what are the trends we can expect to see for the next Dubai World Cup?
I try to follow the fashion trends and incorporate that into my designs. So this year there is a lot of dresses with sheer panels and also lots of frills and flounce. Of course being the DWC and a night time event, I always include lots of sparkle and metallic. My hats are made to reflect on these trends.
Is it any different than in Ascot or Melbourne?
Yes, very different.  One reason that the DWC is a night time event – hence the use of more evening type fabrics, but also that it caters for such a diverse cultural population, we see and much broader type of fashion palette.
What comes first… the hat or the dress?
Definitely, the dress. It is easier for me to find the right colors and materials to design a hat that will compliment the dress.  It is not just about finding a hat that is in the right colors, but the right style and that is something a milliner can create.
ABOUT THE MILLINER´S PROCESS
How do you work with your clients?
My clients come to my studio workshop with their outfits and together we start the design process.  I do have a selection of hats made from different materials in different styles that my clients can try on to see what suits them, then from there I can design something that matches their dress considering their colors, style, and personality.
How much in advance do your clients need to get in touch with you for an order?
I do need about a week.  There is a process to making a hat and part of that process is making sure I have all the right bits and pieces (and colors) – if not, then I have to source them.  Also, to block the shape of the hat takes time as it must be formed wet and so requires drying time etc. The tricky part can them be the trimming of the hat.  If it requires flowers for example, I handmake all of my own flowers from silk organza. So this is another time-consuming process as well.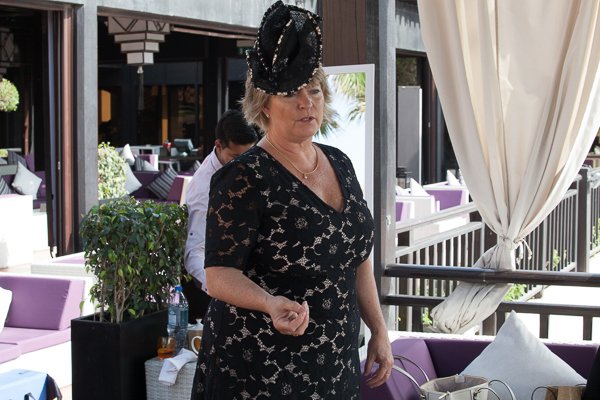 Where do you source your materials?
Most of my base materials are from millinery supply companies in the UK or Australia, but I try to only order top quality – e.g. Swiss Braids, Italian straw etc. I can get beautiful fabrics and braids from Satwa here in the UAE, so that is a great advantage for me to be able to locally source things.
What is the most exotic requirement you ever received?
Probably the order I had a few years ago, from a company that was promoting a range of Candy stores here in the UAE.  I was commissioned to make two hats – one to look like a lollypop and the other a bowl of candy.  It was a lot of fun, with great results, but very challenging to make them look like wearable hats and not too gimmicky.
ABOUT SELECTING OUR HEADPIECE
Is there any particular we have to take into account when selecting a hat or a fascinator? Like our face shape, hair color…? What are your recommendations?
Yes definitely.  Our face shape is the most important part of choosing a hat because certain shapes of hats compliment certain face shapes. For example, choose a hat that skims the eye with a small brim if you have a long narrow face. Hair color also determines our choice of hat color – just like choosing a dress – we choose what suits us.  I would never put a plain black hat on a dark-haired client or a white/cream hat on a blonde.  It just morphs into one and from a distance is hard to define what is hat and what is hair!
How should we style our hair depending on the type of headpiece?
Definitely have your hair pulled back into a chignon or pony tail.  This also elongates your neck so makes you look taller and elegant.  You don't wear a hat that often so make your hat the feature.
The adjustment is important… How can we make sure we are comfortable and the hat stays where it should? Is there any trick?
A well-made hat by a milliner should fit perfectly and comfortably on your head.  Most hats/headpieces nowadays are held on by an elastic that goes under the back of your head. I make that elastic adjustable so clients can loosen or tighten it any time.
---
So, if you still don't have your headpiece get in touch with Karen Hamilton through her facebook or instagram accounts. She is able to take your style to a new level with her beautiful hats and fascinators.