Lightly used clothing (aka "vintage" or "pre-loved fashion") is having a moment. Strike that… it's actually having (at least) a decade. While the previous mantra in fashion was "buy new and (nearly) all the time", we're now moving to a model, particularly in high-end or luxury fashion, where no wardrobe is complete without at least one vintage piece. Vintage is an important part of the slow fashion story and is set to become even more so over time.
Vintage, the linchpin of slow fashion, takes off
As our societies rushed to embrace consumerism, the idea of wearing something that was worn previously became an anathema. Shoppers started to view their clothing as literally consumable, throwing it away or donating it not long after their purchase. As a result, both landfills and what we used to refer to as thrift stores started to pile up with our discarded wears. Fortunately, early innovators saw an opportunity in this and launched all types of marketplaces, both online and offline, to deliver shoppers the opportunity to more easily find great vintage clothing.
And it looks like the resale and slow fashion movements have converged to create a shift change in the industry. According to a recent report, in the US alone, the second-hand apparel market reached $24 billion in 2018 vs. $35 billion for fast fashion. Incredibly, in 2028, the vintage market is set to reach $64 billion in the US, growing beyond the anticipated $44 billion market size for fast fashion. And this is only in the US. Imagine where markets that are less "consumerist" are headed. This remarkable trend is bound to make the traditional fashion industry tremble.
Celebrity power, coupled with game changing campaigns from associations and NGOs, is also helping to build awareness about the importance of having a "more balanced" wardrobe where vintage pieces play a more prominent and regular role. Campaigns like Oxfam GB's Second Hand September / 30-day pledge, fronted by pop culture's "It Woman" of the moment Michaela Coel, is just one really interesting example at the moment.
Getting into Vintage – Where to Start?
I personally have always found vintage stores challenging to navigate. Even if they are well laid out and styled, I still feel a bit lost. So, for me, starting with accessories was a great way to ease myself into shopping second hand. Handbags, belts, scarves, even shoes – there are some real gems to be found in vintage shops. Some of the more impressive and well-known outlets for everything vintage are the true vintage pioneer Kiliwatch in Paris, the celebrated Amore Vintage in Tokyo, the uber-exclusive William Vintage in London, Milan Station in Hong Kong, and Retold and Thrift for Good in Dubai, just to name a few.
And these days, established brands are even reclaiming and restoring previously worn pieces from their lines and, increasingly, giving them dedicated floor space in their retail outlets or online marketplaces. Sustainable fashion pioneers leaders such as Eileen Fisher with their RENEW line continue to lead the way in changing how we approach fashion. Fast fashion is getting in the mix too, with  H&M jumping on this trend by curating vintage spaces in its stores, launching the "Resell" platform for its COS brand, and taking a 70% stake in Swedish resell market Sellpy.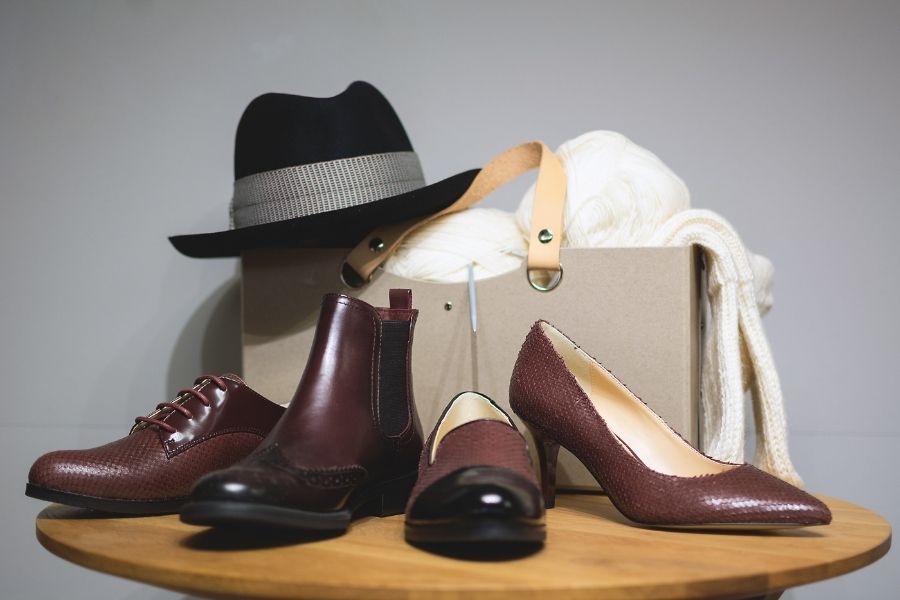 In the virtual world there are, of course, an impressive number of vintage marketplaces. Stalwarts like Vestiaire Collective or The Real Real are always good bets for luxury pieces. But now, burgeoning new marketplace apps like Depop are making the hunt for unique, pre-worn pieces even more interactive and engaging.
Finally, in Dubai, options for good old vintage are limited at the moment while the high street and luxury second-hand is growing. As fashion and design influencers around the world continue to enthusiastically embrace vintage, this will undoubtedly change. Second-hand might not be for everyone. So for them, there are also sustainable fashion brands that are a good way to reduce their environmental impact. Goshopia is a good example of this option. Although they might be adding some vintage pieces and become an early mover in the region on this trend. 
LIKED THIS ARTICLE?
Then for sure you will also like these!
IN SUSTAINABLE FASHION, SMALLER BRANDS ARE STILL WHERE IT'S AT
ATHREAD4CAUSE -ARAB FASHION COUNCIL GOES BEYOND FASHION