Felicia (Khadija) Parker has always had a flair for fashion. Although it was not until her conversion to Islam at 17 that she embarked on a new journey through fashion- the modest way. Her mission now is to introduce a different style to the mainstream market and break through the barriers that society has created for Muslim women.
For years, Parker could not find modest clothing that was still fashion-forward. The idea of creating her own modest fashion line began to sprout. 12 years later, it became a reality when she established her brand Mayada.
Parker calls herself "Hijabi, feminist and damn proud". She creates pieces that correlate with her beliefs by designing flowy yet flattering pieces.
The designer encourages Muslim women around the world to feel empowered and driven by their modesty. She pushes for acceptance of Islamic culture.
Hope for Change
Parker says, "fashion is a powerful form of art. It can be used as a tool to convey a message to the world. After wearing the hijab, I encountered many unfortunate situations where I was the target of verbal and physical assault. I don't want any woman to face such difficulties just because of what she chooses to wear. The more we see ourselves reflected back in society, the more we will feel included in the greater narrative. By creating a larger platform for those less reflected, we can change those misconceptions."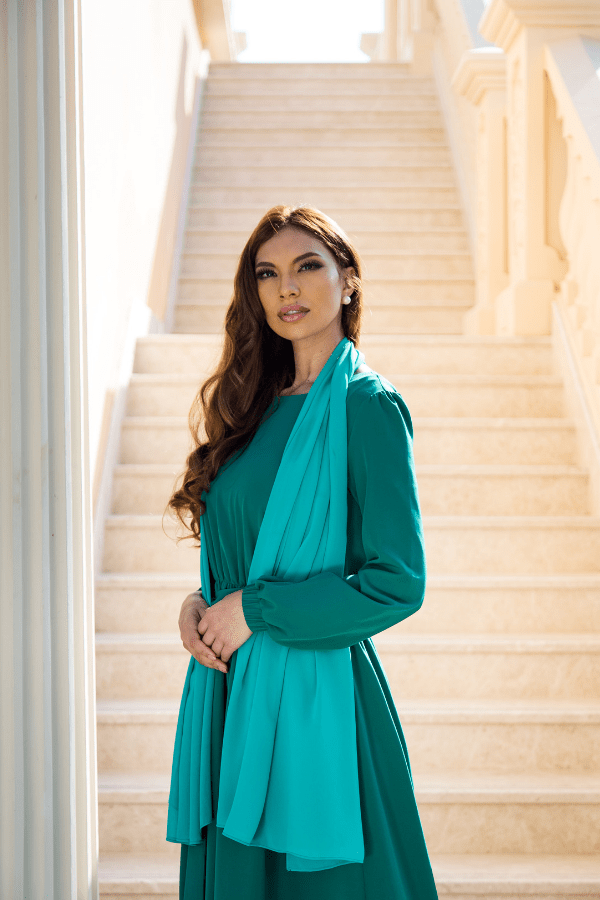 The struggle for inclusivity in the fashion industry is undeniable as it has always followed a certain aesthetic. While it may be difficult to change the fashion scene just yet, emerging fashion designers like Felicia can push for a different take on what is deemed as stylish. She says, "My dream is to take Mayada mainstream and global, and just as successful as the big names, like Ralph Lauren, Vera Wang, Oscar de la Renta, and Carolina Herrera."
Mayada´s future plans
The future of Mayada lies in the hands of our society in accepting different forms of expression of style. The next mission for Parker is to open up a flagship store in Canada, her hometown. There she will include activewear, bridal and accessories. She adds "Beyond that I would love to see Mayada grow into a lifestyle brand and have flagship stores in the US, UK, Saudi Arabia, and UAE."
To find out more about Felicia and Mayada follow her on social media!
Instagram @mayada_brand
Twitter @mayada_brand 
Facebook @mayadabrand
LIKED THIS ARTICLE?