If you like trains, we are going to share with you quite a unique experience. We fell in love with the Maharajas Express at the Arabian Travel Market. This train has different routes throughout India running from September to April. This year, they are opening two special trains for Ramadan.
THE MAHARAJAS EXPRESS
Similar concept as the Orient Express, this train is all about history, comfort, and luxury. For real they treat you like royalty.  This train was voted "The World's Leading Luxury Train" five times in a row at the World Travel Awards and it is the most expensive luxury train in the World.
The cabins are huge and don't have uncomfortable bunk beds. It actually looks just like a hotel room, with your own private bathroom and quite a lot of space.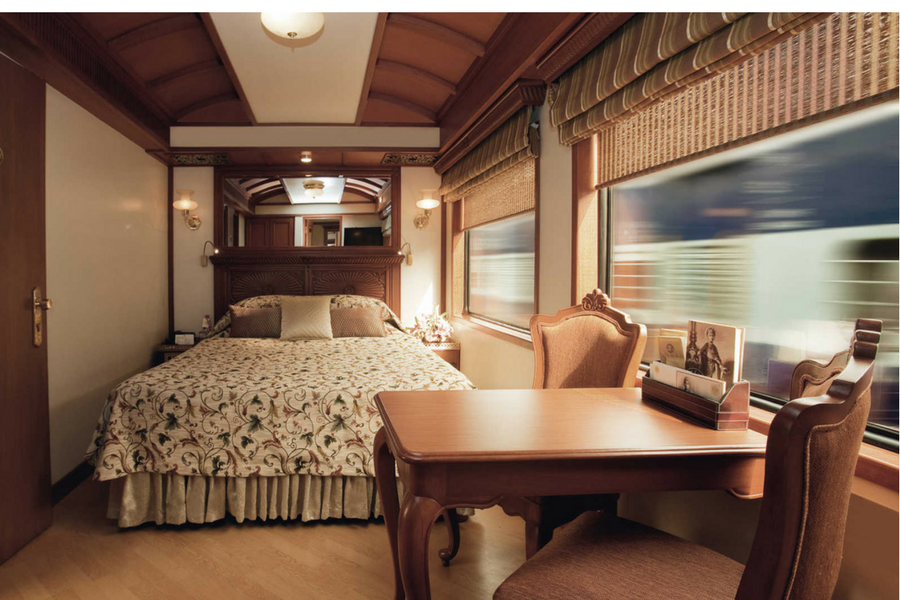 There are two bars and two restaurants per train and they offer during the 7 nights/ 8 days a lot of activities to keep you entertained and enjoying the Indian culture.
The routes for Ramadan go up and down the west coast of India.
The Southern Jewels departs on the 1st of July from Trivandrum and has stops in Chettinad, Mahabalipuram, Mysore, Hampi, Goa and Mumbai.
The Southern Sojourn starts in Mumbai on the 24th of June and stops in Goa, Hampi, Mysore, Cochin, Kumarakom and Trivandrum.
When they say "life is a journey, not a destination", I always think of train trips. There is something romantic and unique about them. If you are travelling in a historic one, with the old-fashioned décor inside and outside… it just gets better.
WHAT WOULD YOU SEE IN THE STOPS?
MUMBAI
It is the financial capital of India, home of Bollywood and a city of opposites. Just as you have slums, you have palaces and luxury. This city is where the journey starts but it is worth taking some time off to visit it before departing.
GOA
Former Portuguese province until 1961, when it got annexed to India. In Goa, you find lots of history, beautiful sandy beaches and Old Goa which is a World Heritage Site, including the Se Cathedral. A charming Portuguese style cathedral and one of the biggest Churches in Asia. From the train, you will visit the not only the churches but also the Old Panjim Houses and the Goa Chitra Museum, an ethnographic museum. The train has also an exclusive Goan Carnival Evening show… for your eyes only!
HAMPI
In Hampi, you will stop to visit the Anegudi Village and also at Hampi. Hampi is a village and a city of temples that is also UNESCO World Heritage Site. It is pretty awesome and worth the visit!
MYSORE
Mysore is full of palaces and heritage sites. Not to be missed is the Mysore Palace. With the Maharajas Express you will have lunch at the Lalitha Mahal Palace hotel. Feel like a Maharaja!
COCHIN
Cochin by the seaside is the paradise if you like fresh fish and seafood. It is full of history, from his own Kingdom with the Kulasekhara Empire. The Portuguese, Netherlands, British and even Mysores called it home. Here you will visit a village where you will see how different traditional arts are still preserved.
KUMARAKOM
In Vembanad Lake, the largest lake in Kerala, you will take a canoe cruise. At lunch, you will see a Snake Boat Race and in the evening a special Indian night on board of the train.
TRIVANDRUM
Also called Thiruvananthapuram (take a deep breath before start pronouncing!). City of technology and development but also known for the many touristic attractions like Padmanabhaswamy Temple, the famous beaches of Kovalam and Varkala, the backwaters of Poovar and Anchuthengu and its Western Ghats tracts of Ponmudi and the Agastyamala.
And if picking the Southern Jewels, even though you shared most of the stops, you have two new ones.
CHETTINAD
This region is home to delicious food and beautiful sarees. Don't forget to visit the Chettinad mansions. The trains also will take you to a tile factory and a surprise activity that is related to fashion and beauty.
MAHABALIPURAM
This is another UNESCO World Heritage Site that you will love. The Shore Temple is just breathtaking and a mystical experience.
---
If you want to book the Maharaja´s Express or get more info, check here.
HOW TO GET THERE?
We use Musafir and Al Mosafer for our travel arrangements. We have affiliated links with them, so when booking use the links provided for special discounts and promotions.