In today's podcast, we are going to learn a lot from Dina Melwani. This passionate Moldovan started her eponymous brand in Dubai in November 2015 and managed to get her pieces sold internationally in a very short period of time. How? Dina Melwani dreamt big and run away from the small atelier syndrome. Her system and way of working is eye-opening and you can't miss it.
If you are a fashion designer or know one that wants to start selling international or simply could benefit from the many other topics we have talked about in Dubai Fashion News Podcast, share the love.
To subscribe to the podcast is very easy. Just click here or subscribe to the magazine here. That way, you will receive every 15 days a newsletter with the latest news, including the latest podcast.
ABOUT DINA MELWANI
Dina showed signs of being super creative since a very tender age. She was inclined to the arts, specially drawing and painting. Later, she studied at Esmod Dubai and wanted to start her own fashion brand. A brand that would have high quality textiles and finishings at an affordable price. A brand that would have classic cuts as she wanted to offer timeless pieces, away from changing trends. These are today the values behind Dina Melwani and they definitely seem to work.
DINA MELWANI´S CREATIVE PROCESS
Dina has a particular creative process for her pret-a-porter collections. From an initial mood board, where inspiration and general direction is portrayed, she creates four different stories based on her same muse: Elegant, Daywear, Cocktail and Fusion.
These four stories or situations where she imagines her client, allow her to better cater the needs of different shops and markets.
After that the material selection, the final design, pattern making and sampling will follow suit.
HOW TO OFFER AFFORDABLE LUXURY?
Dina´s dream is to find people on the street wearing her pieces. She is very aware she cannot and doesn't want to compete to mass producers like Mango or Zara.
Quality has a cost but she would rather reduce her margin and find ways to reach economies of scale to get her price point.
That means that instead of producing one piece every time, she works on volume with factories. She selected factories that are used to luxury clients like Isabel Marant or Lanvin. As one of her mottos says, she never compromises on quality. Her textiles are close to sublime, the manufacturing has to be aligned with that.
Dina Melwani has another line for Haute Couture. Here she offers a design from scratch to adapt to the client´s body shape, taste and special occasion. She loves this, but it is more of a hobby than a scalable business. Her main focus is the pret-a-porter collections.
Listen it all here.
DINA´S LESSONS LEARNT
Find reliable suppliers
She started in Dubai, using local suppliers and working only from her atelier. Once the first collection was out and orders started to arrive, she found out that the local suppliers were not able to provide the same fabric anymore. At the end of the day, they are distributors. She needed to change suppliers to be able to show consistency. Her suppliers now are textile factories directly.
Factories often work with MOQ (Minimum Order Quantity) … but if you are looking to have volume it will provide you with better price per meter. Of course, there is a higher risk when buying more quantity in advance. Make sure to buy fabrics you will use one way or another.
PR Magic
In order to open new markets, Dina believes in PR´s magic. Having a person that knows the market on location will help you have your name out there and get the visibility to be attractive to shops. At the moment, you can find Dina Melwani´s in New York, in UAE, online and soon in LA and London.
Have a Plan
Creative people often disregards this, but if you want to live out of your fashion brand… it is a business and requires of a business plan. Sit and reflect what you want to do and how are you going to make it happen. Make a plan, stick to it and review it from time to time.
Buyers know…
You can't fool buyers, whether professional or not. They will know if a garment is worth your price or not. Quality and finishings have to be great. The pieces need to look good from the outside and in the inside. Don't forget that, as it is very important and it will help you position your brand also in the right segments.
Always reinvest
When you are starting, whatever profit you are getting, try to invest it back in the business.
On organizing the logistics
Dina Melwani uses her atelier as headquarters. So, whatever the factories are producing (fabrics or final garments) will be shipped to Dubai. Quality will be checked here to be later shipped to the different stores.
This way they control the wastage and the quality provided across the whole supply chain.
Dina Melwani spilled the beans with us and gave us a lot of food for thought. With her vision and her drive, it is no wonder she is achieving her dream and we are happy to support her in her journey.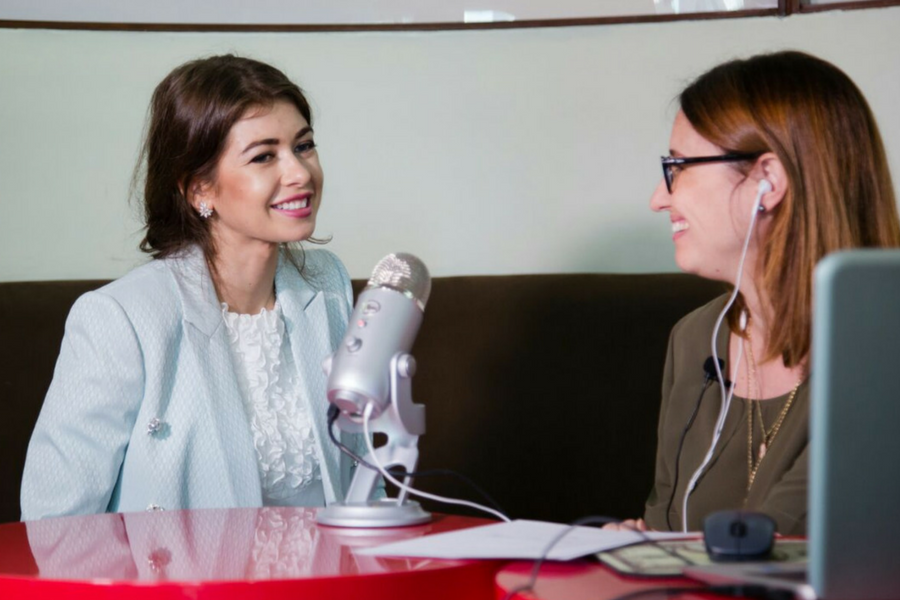 If you want to see her pieces you can check her website or if you are in Dubai visit any of the shops where she stocks: Atelier des Artistes (in Boxpark), Kachins, O concept Store and Fashion Vault.
If you have any question or want to be part of the podcast, send us an email at hello@dubaifashionnews.com.
Now relax and listen to the full interview here.
Podcast: Play in new window | Download
Subscribe: Apple Podcasts | Google Podcasts | Email | RSS | More