Beyonce recently introduced her two beautiful babies to the world and of course, she did it her way. The picture is just so striking, so dramatic!! Queen Bey appears like a beautiful Madonna holding the babies delicately, surrounded by flowers, the sea, covered by a blue veil and dressed in one piece of Spanish designer Palomo Spain. She looks amazing as usual but this picture might mean a whole lot for the newbie and very controversial designer.
ABOUT PALOMO SPAIN
Alejandro Gomez Palomo is the designer behind Palomo Spain. In a little village in Cordoba in the South of Spain, where he has his atelier, he produces all his pieces. Mind you, he does menswear but he thinks men should be able to dress with whatever color or shape they might like. So, ruffles, pinks, skirts, robes, dresses… all is in. He believes in gender equality and is breaking every rule fearlessly.
I agree. If we girls can wear pants, skirts, blacks, pinks, and any color we can think of. Our men should have at least the same options to choose from. He showcased his collection in NYFW and even had some trouble in Paris. His show was misunderstood.
His looks might not be for everyone. But I love the thought of fashion with no gender barriers.
Palomo tells us the story behind the virginal appearance of Beyonce in his piece. Looks like the stylist of Beyonce found out about the brand and requested some samples some time ago. After that, they decided they wanted to buy some pieces. So, measurements were sent to the atelier. Palomo produced the pieces and shipped them. Right after, Beyonce broke the news about her pregnancy.
The designer thought… Ups! She won't be wearing them… but looks like she was waiting for the right time to do it.
The robe is made of silk organza. The print is gorgeous but it is actually quite vintage, from the 50-60´s. He got this fabric from an old couture textile shop in Cordoba.
The ruffles, the funky sleeves, the tail with over abundant fabric, the colors … just perfect and fun!
Palomo Spain, nominated to the LVMH fashion award, dressed already Miley Cyrus for her video Malibu and is looking forward to keeping on working with celebrities.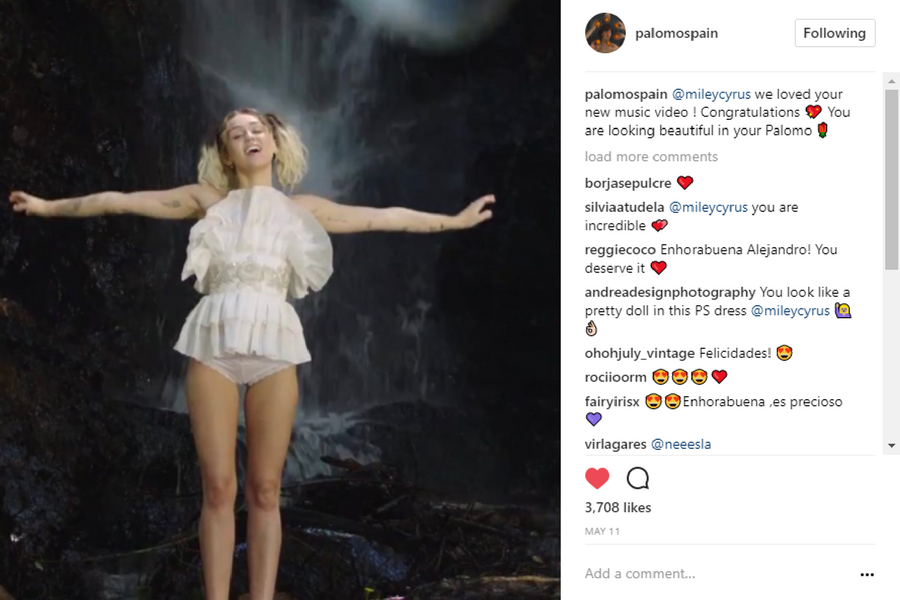 TO QUEEN BEYONCE
Of course, Dubai Fashion News team wants to join the happy moment. So, we send a heartfelt Congratulations on your beautiful family Queen B! Please keep on doing your music. The music that made us dance, dream and sing along in the car… loud, really loud.
Who rules the world?
---
Check other fashion articles or follow our fashion podcast here.