We really enjoyed The Meydan Style Stakes 2017 part of Dubai World Cup. One of the most anticipated fashion events, celebrating creativity and style together with the excitement of the horse races.
Despite the fact that the competition had to relocate to the concourse due to the rain, sophisticated and talented men and women delighted us with their elegant looks.
You want to know the winners? For sure, you do! These are the winners of each category part of the competition.
MEYDAN STYLE STAKES 2017
Most Creative Hat
And the winner is … Oxana MacLaren. She is a cosmetologist from Ukraine and she wore her own creation. She said to be inspired by her idea of Dubai as a blossoming country and the many beautiful gardens here. "It's called "The Garden". Although we live in the dessert, there is a lot of greenery here. (My hat) its full of flowers, butterflies, birds and great emotions."
Best Dressed Couple
Mercedes Alfonso, a fashion blogger from Spain and Kim Lenssens, a Belgian pilot from Emirates, were the winners of the Best Dressed Couple category. Mercedes was responsible for both outfits. She got inspired by Flamenco dresses, and the bullfighting cape contrasting colors. The Spanish totally rocked a beautiful burgundy dress with ruffled sleeves, matching her husbands' waist coat. She designed both outfits. All we can say is that here lies a talented fashion designer!
Best Dressed Lady
Ana Pribylova, won the Best Dressed Lady. Ana is a milliner, and she has her own studio in London. Inspired by this season´s pink and grey color, and her love of vintage couture, Ana wore a stylish pink floral dress and one of her own "Ana Bella" headpieces.
Best Dressed Man
Nadeer Tearab chose peach and pink colors for his outfit." The spring is going on in Dubai. I chose it because I think it fits perfectly the event. The suit is my own creation, I'm creating my own brand called Tearab Suits, named in honor of my father."
Best Hat
Elis Crewes, the winner of Best Hat category, showcased a read golden feathered headpiece form Luke Song Millinery. She said she chose it because it reminded her a Roman emperor and yep! She ruled!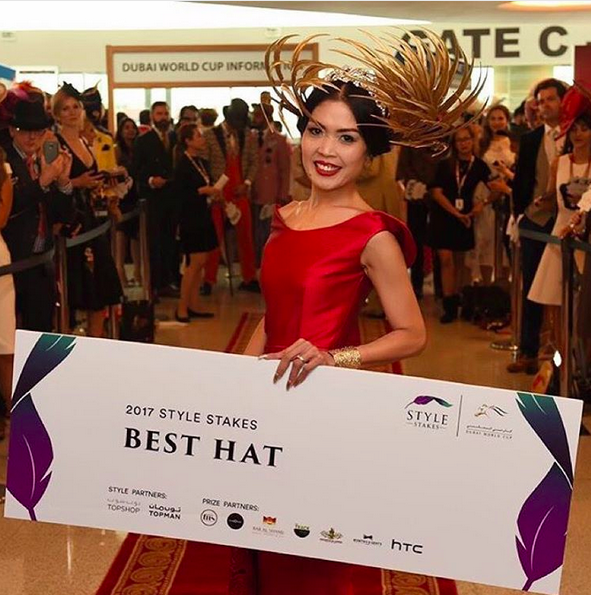 MEET THE JUDGES
The judges of the MEYDAN STYLE STAKES 2017 were Kelly Lundberg, award-winning celebrity stylist and entrepreneur; Dom Magneto, fashion designer and retail expert; Daniel Higgins, fashion editor of Esquire Middle East and The Big Black Book; Saufeeya Goodson, content creator and Vogue Arabia contributor; and Lucy Widman, fashion and beauty director of OK! Middle East & Cosmopolitan Middle East.
MEYDAN STREET STYLE
The styles we saw at Meydan are definitely now that easy to find on the street but we loved them in any case. Here you have the ones that caught the attention of our camera.