On this coronavirus times, when travelling again seems to be far from being a reality, a project is about to see the light, an online journey that will show us the beauties around the world. Introducing HabibiWow, and the kind and close conversation I had with Leila Masse the amazing woman behind this.
The beginning of the Journey
What made you start this project?
Have you ever had the name but not the idea? This is exactly what happened to me. The name "Habibiwow" was invented in December 2018. I was watching the UAE National airshow practice in Abu Dhabi with a group of friends. It was quite impressive, so I said to my friends: "Habibi look, Habibi wow so amazing. Habibiwow!" And, the name was created just like that. I liked it and my friends did too. Habibi means "my friend", "my dear" in Arabic and it is used everywhere in the Middle East, the word Habibi is friendly and sociable. While the word, Wow creates excitement and positive energies.
On that day, I promised myself to build something with that name. I knew that I would like the project to reflect what I love: travel, cultural diversity and positivity. I have this addiction of always organizing itineraries for each trip to maximize on experiences of each destination. A friend advised me to create an Instagram account and I did. The first year, I shared pictures of my travels. It was only in early 2020 that, I found my project's purpose and how I want to inspire others through it. When you have an idea, it is ok to take your time and try different things before you feel it is right. Your dream can only exist if you try.
The team
How many are behind HabibiWow?
I was working on it myself and recently had some help from my sister. I am orienting the brand to be sustainable and eco-friendly. She is helping me with that. My circle of friends and my family are also a big support for this project. I am thankful for my friends that have helped with their expertise. The purpose of the platform is to build a habibiwow community therefore, I am featuring many different people on my page. The habibiwow community loves travel, adventures and is always curious about learning more on new destinations while protecting its environment.
Recently you shared with me that you were planning to launch the website. When you estimate will happen? What we will find there?
The website is under discussion and development as I plan to mature organically. I am first focusing on growing the community on my page as well as creating a travel accessories brand so that people can join & represent the habibiwow community. On the website, you will be able to find the different collections, travel itineraries & tips.
Working during Lockdown
How have you been handling your plans with this project with the lockdown?
The lockdown was the best time for me to advance on this project. I finally had the time to focus, create the logo, my symbols and give more personality to the platform. This is the time where I learnt how to do embroidery. I bought a kit online and started to embroider the symbols on my old shirts. Handmade embroidery takes time but it really adds this artisanal touch. It gave me new ideas for my collections. I cannot neglect the fact that no travel means no new content. I hope to be able to travel again soon and share more adventures with everyone!
Conscious travelling
Can you tell our readers how you do travel consciously and how we can join that lifestyle?
Conscious travelling means that you are aware of and connecting to the environment you are in. How can you support that? Many ways! It is also the best way to learn about a destination. You might support local communities (local restaurants, activities, artisans, shops, locally owned accommodations, etc.) and learn about their culture. It is also about being eco-friendly and not supporting unethical activities. There is a plan to share more conscious travel tips on the platform.
HabibiWow and the world
Is this platform to show the MENA region places?
This platform was created to show beautiful places across our globe and it is not limited to MENA. I am half Moroccan and based in Dubai therefore, the project will definitely have a strong oriental feel. During the lockdown, I made a lot of research on how to create more identity and uniqueness for my future travel accessories collections. In Morocco, there is a community called the Berbers (Amazigh – it means free people). I have a Berber heritage. It is a major ethnic group of North Africa and they have their own culture, language and alphabet. I decided to inspire my symbols and my logo from their alphabet. I hope to be able to travel to Morocco soon to share more awareness on this community.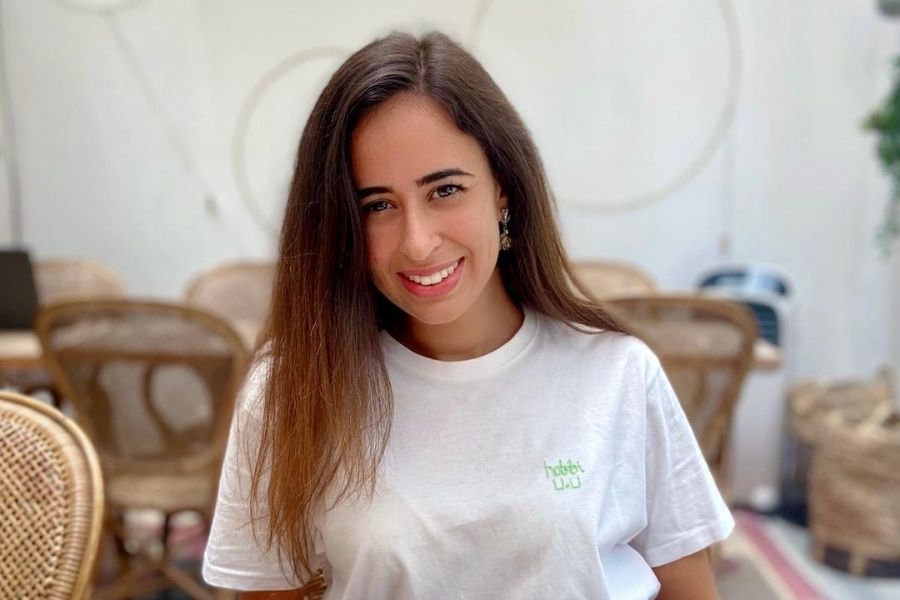 What places have you visited so far?
Many! I have been traveling from a very young age. My top five favorite countries are Japan, Brazil, Morocco, Spain and Egypt. Those countries have nothing in common but it is where I created the best memories and experiences. Each country has their own culture, tradition, history and lifestyle. I connected so well with those countries that I would not mind to visit them many times.
When quarantine is over
Which one you recommend to visit after the quarantine is over?
This is a tough question! So many communities are suffering without tourism and would need the help of the travellers to rebuild themselves. I recommend you to visit that one country that you have wanted to visit for a long time. Explore but keep the social distances!
What can you recommend as a platform, as for the new precautions we should take as travelers on this "new normal"?
My advice is to follow the government's guidelines and stay well informed. The restrictions are constantly changing and adjusting. Those guidelines are in place to keep us all safe.
How much travelling will change when all of this is over?
Travelling trends will definitely change forever. Travelers may seek for less crowded places to begin with. Travelers could have more interest in more secluded accommodations like private homes, and focus on exclusive activities such as adventures involving nature and big spaces etc. The traveling habits could even lead to more conscious travel.
The future of HabibiWow
What other plans you have in the future?
My plan is to build small and exclusive travel accessories collections such as travel shirts, hats, bags. I have designed symbols inspired by the Berber alphabet that I would be using for my collections. Each symbol has a unique meaning to inspire you for your upcoming adventures.
I would like to collaborate and partner with local artisans, use organic and recycled products and support environmental protection entities. I also plan to minimize my packaging as much as possible.
Want to know more? Find Habibiwow on Instagram as @habibiwow
LIKED THIS ARTICLE?
Then for sure, you are in Goshopia's Team of conscious and sustainable citizens!
Fabric Face Masks: a more sustainable yet effective option to fight COVID 19
7 FATHER´S DAY GIFT IDEAS- ECO DAD SPECIAL EDITION
HOW TO SOLVE THE MACRO & MICROPLASTICS POLLUTION