Dubai Fashion News started as a personal blog that soon developed into an amazing platform for everything creative. In our articles, you will find fashion, art, beauty, and lifestyle topics that ignited our curiosity and hopefully, it will ignite yours too.
Now, we are also a fashion podcast aimed to share knowledge within the fashion industry players that has over 25.000 downloads. And not only that, very soon we will be launching an e-commerce and a job board.
THE BEGINNINGS
It all started during the break at one of the Fashion Forward events – kind of like the Dubai fashion week. There, a casual chat with designers showed how difficult it was for them to be featured on the big-name magazines without having to pay an arm and a leg, especially when they were starting, had no name and no budget. So, that comment was the seed of what it is today Dubai Fashion News.
We want to provide a creative space for all new brands and designers that have a say, whose products speak loud about design and quality, even if they might not have a big budget. Our mission is to nurture the creative talent in the region and allow them to get visibility and very soon also sales. How? Because inshallah very soon we will be offering a shop linked to Dubai Fashion News where you will be able to find whatever is trending and cool from local and regional designers.  Our editors will curate a selection of pieces that will get you dreaming without breaking the bank.
MEET THE TEAM
Talking about editors, let me introduce you to some of our core DFN family members. Yep! We are kind of a family. And who am I? I am the founder of Dubai Fashion News. My name is Araceli Gallego and I have done a bit of everything. Jumping from PR & Marketing to Procurement in Hospitality projects, and after from Project Manager to Entrepreneur (or Mompreneur as a matter of fact!). But I don't like to define myself as a particular profession.
I love life and have a curious mind that takes me to many places. I enjoy sharing stories, that is why I take care of the podcast while I keep on looking for ways to make the fashion industry a little bit less harsh on the start-ups and promising rising stars. Because I believe talent deserves a chance and If I can be of assistance, why not?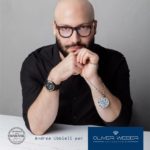 SO, WHAT IS YOUR STORY?
Yes, please tell us! We want to know what brought you to where you are, what makes you happy and what are you doing the next long weekend. Well, and how you got that amazing hair! We are always looking for interesting content, and we can proudly say that much of what you see it has been generated by people like you.
For example, we have a DFN CoolHunter Squad that shares whatever cool finds they see on markets or other Instagram accounts. We have Pinterest Boards with inspiration of all kinds and you can be a pinner or do Instagram takeovers of events and destinations.
JOIN US
If what you see here resonates with you, don't hesitate and become part of it. We are always happy to have new perspectives and assistance is always welcome. If you know of designers that would want to be featured or part of the platform, just connect with us and we will take it from there.
And don't forget Dubai Fashion News is a creative platform and writers and storytellers have also their space. If you want to become one of our contributors, you are very invited to do so! Just check how to join the DFN Family here.
So, stay tuned, follow us in our social media and tell us what you would want to have more of. We are here for you!
Follow us! We are social!